Sydney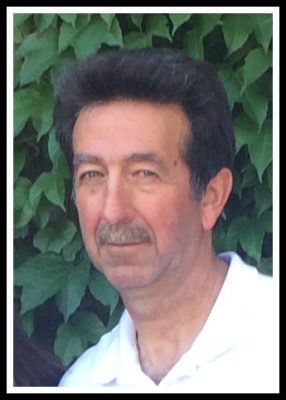 It is with broken hearts that we announce the passing of our beloved husband, father, and grandfather, Harold Joseph Shaheen at the age of 61 on Tuesday, June 4, 2019.
Harold was born in Sydney on October 8, 1957 to Lottie (Covin) and the late Thomas Shaheen.
Harold loved his wife, girls and precious granddaughter and always put his family first. His pride and joy was his two year old granddaughter, Mila. He worked for Superior Propane in the early 1980's, All-State Insurance, and owned and operated a convenience store for many years in the Pier.
Harold was also a skilled carpenter by trade. He was a true friend, a dedicated and hard worker, and without a doubt, the way he was with his trade is how he was as a husband, father and grandfather; always there for us and giving us the best of him. He instilled precious values in our family – hard work, courage, and integrity, and as his daughters, we will be eternally grateful for the lessons we've learned from him. When he wasn't working or with his family, in his spare time you could find him working on the Red Popcorn Wagon.
Harold will be greatly and forever missed by his loving wife of 38 years, Colleen (MacNeil); his daughters, Maria (Glenn MacDonald) and Andréa (Scott Sampson). He was 'Jitty' to his cherished granddaughter, Mila MacDonald. He is also survived by his mother, Lottie (Covin) Shaheen; brothers, Philip (Joan), Tommy, Dave (Rose); sisters, Ann Marie (Mylie Wilson) and Brenda (Blaine Fraser); as well as numerous nieces and nephews.
Besides his father Harold was predeceased by his father and mother-in-law, Colin and Anne MacNeil.
Visitation for the late Harold Shaheen will be held on Friday, June 7, 2019 from 6-9 p.m. at the Pier Community Funeral Home, 1092 Victoria Rd. (entrance on Church Street), Whitney Pier.
Funeral service to celebrate the life of Harold will be on Saturday, June 8, 2019, at the funeral home in the All Faith Chapel at 12 noon with Fr. Paul Murphy officiating. Following the service, a light luncheon will be held in the funeral home reception area. Interment will take place in Resurrection Cemetery, Sydney Forks.
Donations in memory of Harold may be made to the Heart & Stroke Foundation or charity of one's choice.
Funeral arrangements are entrusted to the care and direction of Pier Community Funeral Home.
"Dad, you are always loved, never forgotten and forever missed"

Online Condolences
Colleen, my deepest condolences to you and your girls. I can't even imagine what you are going through. Please know my thoughts and prayers are with you all.
Monica and Chauntelle Brewer
From:  Monica Brewer
We were so saddened to hear the news .We both send thoughts ,prayers and hugs to all of you
From:  Linda A Shaheen & Rick Thibodeau
So sorry to hear of Harold's passing. Since hearing the news I couldn't help but remember how much we looked forward to your visits at Mom and Dad's. Harold would always go in the shop to chat with Dad about his projects. Both would enjoying sharing what they were working on at the time. I hope that on the difficult days your able to reflect on the wonderful relationship you shared. It wasn't often that when we would bump into each other while in Sydney that you weren't enjoying time together. You both were so welcoming to me on my summer vacations when I wanted to go to the "city". Please give a hug to your girls for me. I will continue to pray for God to give you all strength during this difficult time and in the months ahead. May you always find comfort in the beautiful memories you shared.
From:  Love: Kathleen, Warren, Josh, Emma and Chantal
To The Shaheen Family
My Heartfelt Sympathy goes out to Colleen and the Shaheen family at this very difficult time in your lives. I am deeply saddened to have heard about the sudden passing of Harold. What a shame that this world has lost such a kind, caring and compassionate man much to soon in life.
I have known Harold for over 20 years now and for the last 5 years I have had the pleasure of working with him from doing roofs to building decks.
I can honestly say that Harold was a true family man who loved his family more than anything in life .
Harold was an extremely hard worker and he always had a smile for his customers as well as for the people he met in his daily life! Harold was an excellent carpenter and I learned many skills from him! He was certainly a pleasure to work with and a phenomenal boss to work for! He was always very professional and kind. Harold was definitely a man of his word!
It is because of Harold's mentoring me on roof tops that has given me the courage to now work at heights for a living.
My prayers are with you and yours Colleen at this very difficult time in your lives.
May God be with you all and give you the strength you need to get thru this. He will be sadly missed but he will never be forgotten.
God must have needed a new Staircase built in Heaven so he Pulled the best Carpenter he could find Home to build it.
Rest In Peace My Friend !
God Bless !
Be strong Colleen, My prayers are with you !
From:  Donna Collins