Whitney Pier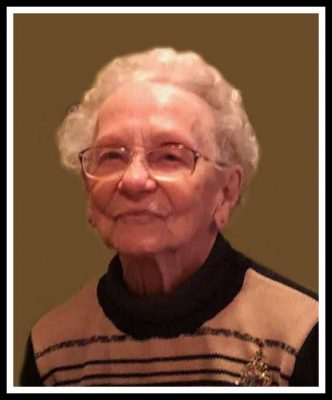 It is with deep sadness that we announce the peaceful passing of Sarah Marguerite Burke on Wednesday, June 26, 2019, at the Cape Breton Regional Hospital, Sydney.
Born in Sydney, Marguerite was the daughter of the late John and Elizabeth (Hawco) Healey of Whitney Pier.
Marguerite was a gentle, shy woman – compassionate and loving. Her independence was a strong virtue which she bore with pride and determination. She was a wonderful loving mom to her daughter, Patricia and son-in-law, David, both of whom cherished and cared for her with utmost joy until her death. For 63 years Marguerite was a carded playing member of her weekly lady's club, enjoyed road trips, shopping and baking.
Marguerite is survived by her daughter, Patricia (David) Burke; sister, Merlyn (the late Frank) Burke; brother, Earl (Margie) Healey; sisters-in-law, Rhoda Healey and Roberta Burke; dear cousin and friend, Goldie Carroll; as well as several nieces and nephews.
Besides her parents, Marguerite was predeceased by her husband, Fraser Burke; sisters, Loretta, Sister Evelyn and Edith Healey; brothers, Phil (the late Dorothy), Jib and brothers-in-law, Urban and Frank.
Visitation for the late Marguerite Burke will be held on Saturday, June 29, 2019 at the Pier Community Funeral Home, 1092 Victoria Rd. (entrance on Church Street) from 5-9 p.m. Funeral Mass will be celebrated on Sunday, June 30, 2019 at 2 p.m. in Holy Redeemer Church, Whitney Pier, with Fr. Paul Murphy officiating.
Following the Mass, a reception will be held at the Pier Community Funeral Home.
Interment will take place in Resurrection Cemetery, Sydney Forks.
Donations in memory of Marguerite may be made to the Holy Redeemer Building Fund or Hospice Palliative Care Society of Cape Breton County.
Funeral arrangements are entrusted to the care and direction of Pier Community Funeral Home.
Though she be small she be mighty

Online Condolences
Indeed she was small, mighty, my godmother for 64 years and I loved her.
From:  Kevin Cameron
Patricia
So sorry to hear of your mom's passing. I have many fond memories from years gone by. My thoughts and prayers are with you at this time.
From:  Pat LeBlanc
We are truly going to miss your mom at our Christmas get togthers, it was a special time in our holiday tradition. With heart felt sympathy. Albert and Paula Carroll
From:  Albert Carroll
I extend my deepest sympathy to Patricia on the loss of your dear mother. I am so sorry for you and Dave. I often remember you speaking about your mom to me when I had you as a teacher a few years ago in grade six. You were my favorite teacher and I still mention that to people today. I am sure your mom is very proud of you and I know that she will always be looking out for you. You will never forget her and I am sure that you have many good memories of her. Cherish them always. May God strengthen you during this time and in the days ahead.
From:  Donna Tynski
Pat and Dave we are so sorry about Margaret. We didn't find out until an hour ago. Margaret has been part of our Christmas tradition of going up to Aunt Goldie and Uncle Russ' house on Boxing day to play cards and have lots of laughs with family. Many fond memories with our mother too. Love Ellen, Gary, Beverly and Allen.
From:  Ellen Landry/Beverly Young
Dear Patricia, my deepest sympathy on the passing of your mom. I remember her very well she was so petit and quiet. R.I.P. dearest Mrs. Burke.
From:  Valerie Young Levesque