Sydney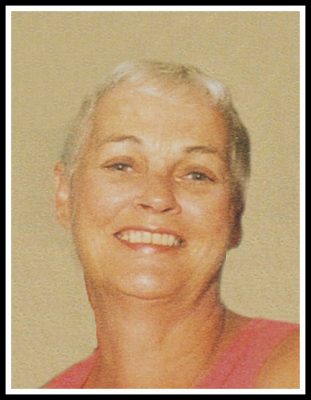 It is with broken hearts that we announce the peaceful passing of our beloved June Frances Boutilier, age 80, on Sunday, June 30, 2019, at The Cove Guest Home, Sydney.
Born in Sydney, June was the daughter of the late George and Katherine Halliday.
June worked as a switchboard operator/admitting clerk, first at St. Rita's Hospital, then at the Cape Breton Regional. June was always a pleasant and caring woman who left a positive impression on everyone she met. She loved practical jokes and enjoyed crossword puzzles, watching TV, reading and knitting in her spare time. Her favourite things were spending time with family, sailing the Bras d'Or Lakes with Calvin and spending many summers in Baddeck. In the past three years, June cherished her visits with family and friends at Milford Haven and The Cove.
June is survived by her daughter, Donna (Mike) Hagen; sons, Wayne (Sandra) MacDonald and Allan (Paula) MacDonald; son-in-law Bill Bouris; stepdaughter, Gwen (Jim) Lappin; stepson, Mark Boutilier; brother, Bob Halliday; sisters, Donna (Miles) MacDonald and Deborah (Nick) Denny as well as 11 grandchildren, and many great-grandchildren, and nieces and nephews.
June was predeceased by her husband, Calvin Boutilier; sister, Karen Kickham (the late Terry); daughter, Debbie Bouris; and the father of her children, Sander MacDonald.
Visitation and memorial service for the late June Boutilier will be held at Pier Community Funeral Home, 1092 Victoria Road (entrance on Church Street), Whitney Pier, on Thursday, July 4, 2019. A gathering of family and friends will take place from 2-3 p.m. with the memorial service to follow at 3 p.m. in the All Faith Chapel. Light refreshments will be served in the reception area following the service. Interment will take place at a later date.
The family would like to extend a special thanks to the staff at Milford Haven Guest Home in Guysborough and The Cove Guest Home in Sydney for the outstanding love and care she received. "June Bug" will be missed. Special thanks to Dr. Mary Anne Campbell and Dr. J. Archibald for the care given to mom over the years.
In lieu of flowers, donations can be made in June's memory to the Lung Association of Nova Scotia or the ALS Society of New Brunswick/Nova Scotia.
Funeral arrangements are entrusted to the care and direction of Pier Community Funeral Home.

Online Condolences
Dear Wayne and family,
I am so saddened to hear of your mom's passing. She was a wonderful lady, such a great sense of humor, so kind and a loving mom.
I remember her when she came to Calgary and she and I dancing to " Born To Be Alive" at my mom's house. We laughed and laughed and it's a fantastic memory I'll never forget.
God bless her and may she rest in peace.
From:  Geraldine Gerein
Dear Donna, Allan and family,
We are thinking about you and your dear Mother at this time. We are out of town and cannot attend the service but you will be in our thoughts and prayers.
From:  Charlie and Carol Crowe