Sydney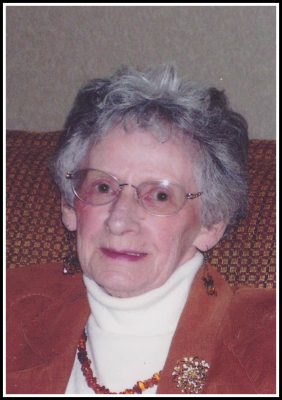 It is with sadness that the family of Betty McAskill announce the passing of their beloved mother Monday, May 6, 2019 at the family home of 58 years on Topshee Drive, Sydney surrounded by her loving family. Born in Sydney on September 5, 1927, Betty was the daughter of the late Robert and Annie Tredenick (nee MacDonald).
Besides her parents she was predeceased by her husband, John J. McAskill; daughter, Pamela Mosher (nee McAskill); infant daughter, Cathy Jane; siblings, Florence, Junie, Ina, Donnie, and son-in-law, John Raoul.
Betty is survived by her daughters, Betty-Anne (Gordon) Fraser, Big Island, NS, Bobbie (John) Raoul, Thorburn, Cindy (Chris Terrio) Mc Askill, Sherwood Park, Alberta; son, John (Beth) McAskill, Smithers BC; sisters, Peggy (Cecil) Rigby, Riverview, NB, Lorraine (Lynn) Kinnie, Yarmouth, NS, Joey (Mike) Holland, Jacksonville, Florida; as well as many special nieces and nephews. Betty is also survived by her grandchildren, Matthew, Vivian, Kathryn, Amanda, Justin and Benjamin who were a light in her life. She enjoyed spending time, supporting and sharing stories with them especially around politics, hockey and the environment.
As a child she loved skating and later played on many dart teams. She worked side by side with her husband as they fought for important social issues. She had a passion for travel and meeting new people and cultures as well as LGBTQ+ community. She began her early work life beside her father at Sydney Steel running the printing press and later as a valued employee at MacGillivary Guest home where she brought smiles to many faces. She was a valued participant in many charitable organizations and a long-time member of the CWL, Branch 12 Legion Ladies Auxiliary. She continued to be a caring and supportive mother to her family. Betty was a caregiver to her husband, John for 12 years as he dealt with Alzheimer's disease. She valued her participation in her supportive community with her close-knit friends providing support to one another.
The family would like to thank City Homemakers, VON the Cape Breton Palliative Care team and her medical team for their care and support over the last months.
A Celebration of the life of Betty McAskill will be held on Thursday, May 9, 2019 at the Pier Community Funeral Home, Whitney Pier, 1092 Victoria Rd. (entrance on Church Street) from 12 noon to 2 p.m. with a light lunch served. At 2 p.m. friends and family are invited to openly share stories about Betty.
Private family interment will take place at Resurrection Cemetery, Sydney Forks.
Family flowers only. Donations in memory of Betty can be made to Every Women's Centre and the Hospice Palliative Care Society of Cape Breton.
Funeral arrangements are entrusted to the care and direction of Pier Community Funeral Home.

         Online Condolences
Very sorry to hear of Betty Ann's passing. Gordie did not know and I was working so I could not attend. May your mother's love and kindness live on in her family and friends.
From:  Brian and Gordie macdonald
Dear Betty Anne, Bobbie, Cindy and John, I am sad to hear of the passing of your mother. She was a very welcoming and hospitable person. Betty was accepting of others, was tenacious had a good sense of humour. I always enjoyed her company. Thinking of you as Mother's Day approaches. Please accept my condolences.
From:  Karen O'Hara
Dear Betty-Anne,Bobbi, Cindy and John, I wanted to express our condolences on the loss of your mom. Aunt Betty was a wonderful strong lady who endured many hardships throughout her life but always remained kind and giving. She will be missed by her extended family as well.Love to you all.
From:  Lori Rigby/Ron Romkey