Sydney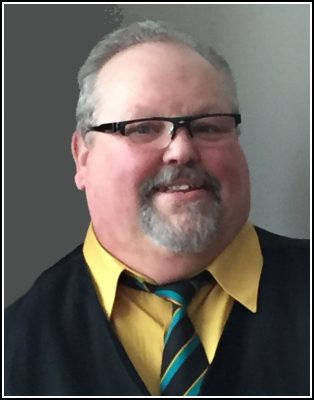 It is with broken hearts we, the family, announce the sudden passing of John Walter Doué, 60, on Monday, May 6, 2019. John lived his whole life in Sydney and loved his home of Cape Breton.
John will be greatly missed by his brothers and sisters, Beverly (Owen) Heisler, Brian (Lea), Joel (Lana), Diane (Bryan) MacDonald, Walter (Jean), David (Pat), and Sandra (Trevor) Williams; cousin, Brenda (Bob) Oakley; nieces and nephews, Sandra Heisler, Christopher (Nicola) Heisler, Caleb and Seth Doué, Spencer (Alyssa) Doué, Sam (Julie) Doué, Amanda, Daniel, and Rachael Doué, Sarah Doué, and Hannah and Ella Williams; as well as his grand-nieces, grand-nephews, extended family and many close friends.
John was predeceased by his parents, Joseph and Helen Doué and a brother, Barry Doué.
John, a true gentle giant who was loved by all who knew him, worked in the mail room at CBU for thirty years and was known for his love of Mickey Mouse, Toronto Maple Leafs, and Tim's coffee. Fondly referred to by family as "handyman John," he could not say no to anyone. His cheesecakes and chocolates were enjoyed by many, and his generous and humble spirit will never be forgotten.
Visitation for the late John Walter Doué will be held on Friday, May 10, 2019 from 5-9 p.m. at the Pier Community Funeral Home, 1092 Victoria Rd. (entrance on Church Street).
Celebration of John's life will be on Saturday, May 11, 2019 at the funeral home in the All Faith Chapel at 11 a.m. with Rev. Sheldon Chant officiating.
A private family interment will take place in Alfred E. Smith Cemetery, Sydney Forks at a later date.
In lieu of flowers, donations in memory of John may be made to the Heart and Stroke Foundation of Canada, Mighty Fortress of God or GPAC.
Funeral arrangements are entrusted to the care and direction of Pier Community Funeral Home.

         Online Condolences
I was saddened to hear of John's death. I knew John from his work at UCCB and CBU. He was always friendly and courteous—always in a good mood and a kind word. Our conversations spanned a universe of topics from dog adoptions to world politics. John was a good person and a pleasure to work with over the decades. I wish his family well and will think fondly of John for many years to come.Jim
From:  Jim Guy
Our Deepest sympathies on the sudden passing of John. Prayers and condolences to all the family.
From:  Paul and Cheryl Matthews
I will always remember John's cheerful willingness and his sense of fun. He was unfailingly helpful and welcoming to all who went to the mail room. He will be very much missed.
From:  Arlene Mullan
Brian, Bev and the the Doue Family,
I was saddened to read of John's passing. I will miss our Pier chats through the door at the CBU mailroom. My thoughts and prayers are with you at this very difficult time.
From:  Chuck Drohan
Brian, Walter and families. So sorry to read of John's sudden passing he was a wonderful co-worker at CBU, my thoughts are with you all. Brenda Biron
From:  Brenda Biron
My sincerest heartfelt condolences to John's family on his passing. John had such a sweet, endearing soul. It was always a pleasure to visit the mailroom here at CBU to say hello. Even more of a treat when he would come back for a day or two to fill in during someone's time off. He will be dearly missed.
From:  Anita Morrison
Brian, Doue Family
My deepest heartfelt condolences on the passing of your brother John. I always remembered you and your family especially when you lived on Bay St. and going to Eastmount School. I also have many good memories of all of you what a great family to have known. My thoughts and prayers are with you all during the loss of your beloved brother. May he rest in peace.
From:  Mary Borden Hurel