Christmas Island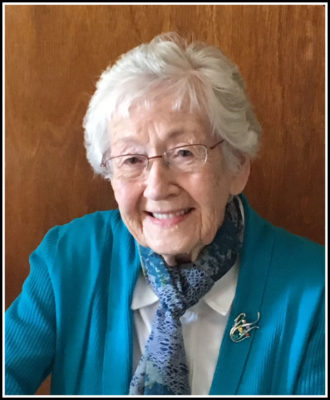 We, the family of Sarah Catherine 'Kay' MacKenzie, age 95, are heartbroken to announce her sudden passing on Thursday, April 4, 2019. She was surrounded by her loving family in her home of 74 years, the place she loved the most.
Born on April 12, 1923 in Piper's Cove, Kay was the daughter of the late Rory Joseph and Annie (MacNeil) MacNeil. She was a devout Catholic, a woman of strong faith and a lifelong member of St. Barra's Parish, Christmas Island.
Kay served God through her prayer life, including her daily recitation of the Rosary, as well as her dedication and devotion to her home and family. Kay was our mother, grandmother, great-grandmother, our matriarch; the center of our world. We were blessed to have her for so many years and to experience her many interesting stories, her sharp wit and her quick recall of people and events in the local community. Kay was fluent in Gaelic; she enjoyed her Gaelic chats with friend and neighbor, Catherine.
Kay was a master biscuit maker (we are still trying to perfect her recipe) and no one left her home without the tea. She loved nature, attending to her flowers, knitting, cooking meals, painting and decorating her home and watching her favorite shows, especially the daily Mass and the Young and the Restless. Her most treasured moments came from spending time with friends, her large family and dog-sitting her best buddy, Maxie.
Since 1970, Kay was the sole parent to her 10 children and worked tirelessly to provide for us, instilling strong moral values, a good work ethic and a devotion to faith, prayer and family. She is survived by her children, Neil (Diane), Theresa MacKinnon, John R., Anne (Kevin) McCormick, Sandra (Tony) DePompa, Sharon (Doug) Wansbrough, Andrea, Keith (Marie), Kevin (Anne) and David L. (Terry). She was very proud of her 18 grandchildren, 14 great-grandchildren, many nieces, nephews and godchildren.
Kay was the sole surviving member of her immediate family. Besides her parents, she was predeceased by her loving husband, Neil; son-in-law, James Andre MacKinnon; sisters, Florence (Danny) MacNeil, Mary Sarah (Paddy) MacNeil, Mary Ann (Peter Rory) MacKenzie and brothers, Michael (Frances) and Hector (Helena).
Visitation and memorial Mass for the late Mrs. MacKenzie will be held on Wednesday, April 10, 2019 in St. Columba Church, Iona. Gathering of family friends will take place from 12 noon-2 p.m. with memorial Mass to follow at 2 p.m. with Rev. Vargheese and Rev. Ray Huntley officiating. Interment at St. Barra's Cemetery, Christmas Island with a reception to follow at Christmas Island Fire Hall.
Memorial donations in memory of Kay can be made to the St. Barra's Cemetery Fund or Mass for Shut-Ins.
Funeral arrangements are entrusted to the care and direction of Pier Community Funeral Home.

         Online Condolences
Dear Anne and Kevin
So sorry to hear about your mom. It sounds like she was a very wonderful person. When I saw her picture in the paper I could not get over how much you, Anne, and your mom looked alike. It is so hard to lose someone in your life, that are one of the few, that give you unconditional love. I am also sorry that we will not be able to attend the wake or funeral. Joe is working and I have 2 of my grandchildren all day while their parents work. I will be thinking of you. I am glad you have Kevin and the rest of your family for support.
From: Linda and Joe T. MacNeil
Anne, Kevin and family; David and Terry; Kevin, Anne and family.
Our sincere sympathy to all of you on the loss of your mother. The obituary was a beautiful reflection of her life. Her legacy will live on through her children, grandchildren and great grandchildren. We are not able to attend today but will be thinking and praying as you go through this difficult journey.
From: Lorrie and Leroy Hodder and family
Neil,so sorry to learn of the passing of your mom.Please pass on to your brothers and sisters our deepest condolences.I will remember her at the prayers of the faithful at the 10 am Mass here in Wasaga Beach Friday morning
From: .Gemma and Michael MacIntyre..
Our sincere condolences to all of Kay's family. May you hold dear your memories and let them guide you during this difficult time.
From: Bailey and Ann Doreen (Gillis) McCrea & John and Lexie ( Gillis) Martin