Whitney Pier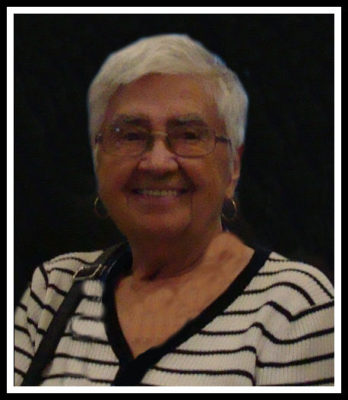 It is with profound sadness that we, the family, announce the passing of Lois Muriel Wludyka. She passed peacefully in the early hours of Friday, March 22, 2019 at the Cape Breton Regional Hospital, An Cala Unit, Sydney, surrounded by her loving family.
A 'Pier Girl' all her life, Lois was born on April 18, 1944 to the late Louis and Muriel (Reader) Palmer.
Lois enjoyed the simple things in life, such as sewing, knitting, cooking, crafting and cleaning. Lois' greatest joy came from caring for her children, the neighbor's children and later her grandchildren.
Besides her parents, Lois was predeceased by her sisters, Wendy (the late Carl) March, Judy (Paul) O'Keefe and brother in-law, Ray Davison.
Left to mourn Lois' passing are husband, Leonard; sisters, Doreen and Nadine (Murray) Nicholson; brother-in-law, Paul O'Keefe; daughter, Joan (David) Poirrier, and sons, Francis and Paul (Leah). She will be especially missed by grandchildren, Marcel (Holly), Rhiannon, Brett, and the newest addition to the family, great-granddaughter, Annika; lifelong special friend, Donna Dziubek; as a as well as special niece and nephew, Renee and Raymond, and several other nieces and nephews, who will miss their Auntie Lo. Lois will be greatly missed by all those who had the pleasure of knowing her.
As per Lois' request cremation has taken place. Visitation and memorial service to celebrate the life of Lois Muriel Wludyka will be held at Pier Community Funeral Home, 1092 Victoria Rd. (entrance on Church Street), Sydney on Wednesday, March 27, 2019. A gathering of family and friends will take place from 6-7:15 p.m. with service to follow at 7:15 p.m. in the All Faith Chapel with Fr. Paul Murphy officiating. Light refreshments will be served in the funeral home reception area following the memorial service. Private family interment will take place in New Calvary Cemetery, Whitney Pier at a later date.
In lieu of flowers, donations in memory of Lois may be made to Hospice Palliative Care Society of Cape Breton.
Funeral arrangements are entrusted to the care and direction of Pier Community Funeral Home.

         Online Condolences
Lenny & family,
Offering you my deepest sympathy during this time.
From: Laura Cook (Elworthy)
Lennie, Joan, David, Marcel, Rhiannon and family
So sorry to learn of Lois's death. We have such wonderful memories of Lois and the soccer days. She was such fun to be around and so generous to all. We loved her sense of humour and how she opened her home to the kids. Our thoughts are with all of you. She will be missed by many.
From: MacDougall Family
Words can't express my feelings about this loss.There is a sadness and joy in the memories of this wonderful person.Heartfelt prayers and condolences.
From: Brad Rowe
Sincere sympathy from Dave and Mary French and family.
From: Dave and Mary French
Thinking of you and your family at this difficult time.Please accept our condolences,hopefully good memories will help see you through this difficult time.
From: Tom & Judy Doolan
I would like to offer my condolences to Lenny and family. You are in my thoughts and prayers.
From: Evelyn Wojick
Our heartfelt prayers and condolences sent to the Porrier and Wludka families. I know that Lois will be missed. I remember her from Soccer and the Polish Village. She was always kind and caring for my twin Jillian and Nathan Our prayers and thoughts are with your families. I will not be able to go to th gathering and funeral because I have MS. Take care.
From: Catherine Penman
Lenny and family:
Thinking of you and wishing you moments of peace and comfort as you remember Lois.
With heartfelt sympathy.
From: Debbie(French) Lessie
So sorry to hear of Lois' passing. My thoughts and prayers go out to the family at this difficult time! Hugs
From: Mary Keough
We extend our deepest sympathy to you on the loss of your dear loved one.You are in our thoughts and prayers.Sorry, we were unavoidably unable to attend the service. Love,
From: Ed & Doreen Tynski