Whitney Pier / Toronto
It is with heartfelt sadness that we announce the passing of Sco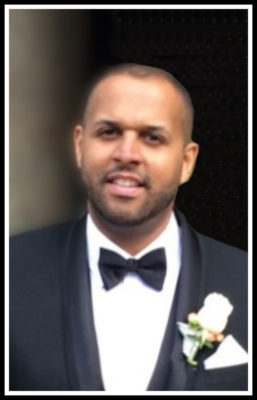 tt Thomson Skinner, age 43, at home in Toronto, Ont.
Born in Sydney, Scott was the son of Constance Elaine Yakemchuck and Scott Thompson Skinner.
Besides his parents, Scott is survived by many aunts; uncles; cousins and a step-sister, Danielle Manning.
Scott was predeceased by his maternal grandmother, Velda Yakemchuck and his paternal grandparents, Charles and Laura (Mintus) Skinner.
Scott was a man bigger than life, he loved to laugh, and he was always the life of the party. He loved to sing and dance. Scott was a travel agent for Flight Centre and formed many close relationships with his co-workers. He will be missed by all who knew him.
Visitation for the late Scott Skinner will be held on Tuesday, March 26, 2019 from 2-4 and 7-9 p.m. at the Pier Community Funeral Home, 1092 Victoria Rd. (entrance on Church Street), Sydney.
Funeral service to celebrate the life of Scott will be held in the funeral home on Wednesday, March 27, 2019 at 11 a.m. in the All Faith Chapel with Michael Morrison officiating. A reception will be held at Menelick Hall, Laurier Street, Whitney Pier, following the service.
Donations in memory of Scott may be made to a charity of one's choice.
Funeral arrangements are entrusted to the care and direction of Pier Community Funeral Home.

         Online Condolences
Scotty you were many great things, but if I had to choose only three that come to mind they would be, good listener, outgoing, and my favorite laughter. You are greatly missed and loved. I am honored to have known you my friend since 2002. My condolences to Scotty's parents, family and friends. Thinking of you at this time.
From: Antonio Alaimo
We extend to our friend, Scott Skinner an family.our sincere an heart felt Condolences, may GOD bless an give you all strength. Huggess
From: Norman Izzard
Scott was an amazing young man and I had the privilege of knowing him through teaching at Jamieson Elementary. His personality was as vibrant as he was and his kindness towards others was always appreciated. May he continue to be the vibrant angel looking down upon us all and showing us that life is to be enjoyed. To his family my heartfelt condolences.
From: Kevin Linden
My sincere condolences to Connie and Scott and all the families on the passing of Scott.My thoughts and prayers are with you all at this difficult time.God Bless.
From: Stella Walcott
My sincere condolences to Scott Sr and Connie on the passing of your son, Scottie. He was such a sweetheart and I always enjoyed seeing him when he came home on vacation. I always got big hugs when he was visiting with his bestie, my niece, Colie. He will be missed but always remembered. Rest In Peace Scottie, Love Cousin Helen xo
From: Helen Dorrington-Price
Our sincere Condolences to Scott, Connie & Family … Scottie will be forever missed by all who knew him and will always be remembered fondly …. Our cherished memories of Scottie will last in our hearts & minds forever. we are so very Sorry For Your Loss…. Florence, Marion, Mona, Wanda & Garfield …
Rest Peacefully Scottie!!!
From: Marion Mombourquette
Sending my condolences to the Skinner family. May your love one rest in peace. God bless you all.
From: Evelyn Clyke-Saunders
I had the pleasure of working with your son, Scott, for many years.
We moved from work colleagues to friends one night over a pitcher of beer and some fiery conversation on a work trip in Jamaica, where Scott proceeded to "lay it out for me." As I write this I smile, because I still hear his voice and all that sass 9 years later. I can't begin to imagine how you're feeling, but know that he was loved. He had a special brand of fire and joy and kindness inside that lit up any room he was in, and I am fortunate to have known him. Thank you for raising him so well, so fiercely independent and unique, and if there's any comfort to be taken, find it in knowing that his life had meaning and impact on the people around him, and he won't be forgotten. Hugs and Love always.
From: Sarah Bowden
My deepest condolences for the loss of Scottie. He was a bright light and will be missed.
From: Nathan MacDonald
My deepest condolences on the loss of your son Scotty..He was such a great person and a friend to many that he encountered.. Thanks Scotty for being YOU.. will miss your laugh and smile… RIP
From: Carol Ann Marsman
I am honored and blessed to have known your Scottie he was truly a blessing in life and I will miss him. My condolences
From: Theresa Brewster
Condolences Connie on the passing of your son. You are in my thoughts and prayers.
From: Mary Phillips
So. Sorry. Stottie an Connie. Sending prayers to you both. On such amazing young man. R I P young Scott
From: Jenny McCarthy
Sending my sincere and deepest condolences to the family.
From: Kim Jordan
My condolences to Scott's Family and friends.
From: Alexis Rowe Pertus
My sincere condolences to Scott's Dad and Mom. We are all heartbroken and share your sadness . Scott was so loved by everyone that met him.
He will never be out of our hearts.
From: Mona Fraser
Our condolences to all Scott's family and friends. RIP.
From: John Shannon
So sorry to hear the news about Scott, he was a amazing person made everyone always feel welcomed. Heaven has definitely gained a angel, RIP my friend
From: Badiah Feltmate
Scott we are sorry to hear about your son Scott. Rick and I are sending our prayers and love to and your family. God Bless!!!!.
From: Rick and Janet Ryan xoxo
We wish to offer our sincerest condolences to Scott snr. and Connie and all family members. Our humble prayer is that God will grant you all His peace and comfort during this extremely difficult time.
From: Rocky Coward
John and I send your sincere condolences to the family and friends of young Scott Skinner, He was A kind young man with a heart of gold he was well loved by the community. Our thoughts and prayers are with you all at this difficult time, May u R.I.P Scott.
From: John and Loretta Hearn
Deepest condolence to Skinner family R.I.P Scott
From: Melvin Tull
Scott and Connie, you have my deepest and most sincere condolences. you and your family are in my thoughts and Prayers. May God truly bless you ,Strengthen and comfort you and give you peace at this sad time..R.I.P. young Scott..
From: Pastor Clara Jordan
Please accept the deepest condolences from my wife and me. We knew Scott in the context of his work, as we first dealt with him about 8 years ago when booking an important trip. He was, quite simply, a joy to talk to — he was always our first call when he had someplace to go. I still remember back in 2014 booking a two week trip for Seoul, being very nervous as I was going to a place where I knew nobody and did not speak the language. Scott took the time to call hotels for me and ask them all the questions I had. Really, he showed a level of care rarely seen by anybody in any profession. Just from our limited interactions with him (3 or 4 times a year), it was clear to us he was a special person.
Sincerely,
Walter and Darlene
From: Walter Wagnleithner & Darlene Chin
Our sincere condolences to Connie and Scott and the family on the passing of Scott.
Scott was very much well loved and will be missed by many. Our thoughts and prayers are with you all at this difficult time. God Bless.
From: Joanna, Glen and Tammy Sophocleous
No dinner, patio afternoon, Sunday in the sun, wine tasting, birthday celebration or long juicy chat about life and love will ever be the same without Scott's dry humour, party animal side, and practical east coast sense. I will miss his dancing, DJ-Ing and love of life, fun and travel. He was a one of a kind friend and we are lucky we got to count him as one of ours. We will always remember him.
From: Hilary and Derek Stewart
I met Scott at Flight Centre back in 2003. We were like brothers. Scott taught me love. He loved his parents so much. We would talk about them for hours until the box of wine went dry. Then we would get another and keep the conversation going. He loved all his friends and family back home. If I can sum up Scott in one word it's LOVE.. He truly was the best person I've ever known and my sincerest condolences to the family. Love you my brother. In my life…..
From: Ian Hession
My condolences to the family and to the many that knew Scottie. I live in the same building that Scottie did in Toronto .This is still surreal to me but I will hold onto the great memories. I will miss those great hugs whenever I would see you. Gone too soon. RIP
From: Glen Michael Grant
I had the privilege of hiring Scott as a summer student . Scott's amazing personality and sense of humour brought many smiles to our team. He was kind, caring and an amazing people person. He certainly made a difference in the lives of many of our clients. I will always remember his beautiful gentle smile and laugh. My heartfelt condolences to his family. He will be missed immensely.
From: Wendy MacIntyre
Scott was truly a light in this world. I knew him most junior our days at Whitney Pier Memorial Junior High. Although this was many years ago, I still treasure many memories of Scottie during those times. He was a wonderful person who will be missed by all who were blessed to have known him. My deepest condolences to his entire family and many friends. I will be remembering you in my prayers.
From: Laurena Clarke
To the Family:
It is with great sadness that my friend and your son passed away too soon. Scotty and myself lived in Toronto for Many years; He was a Beacon of light , smiling, happy and full of joy and happiness. He was a true friend. I moved back to Halifax and would occasionally see him when I went to Toronto for conferences. We always picked up where we left of years apart. I met Scotty when he was a Club Monaco here in Halifax in 1996 and became close friends. His spirit was infectious and he was always there with a listening ear and never judgmental. I will miss him dearly. I was at the visitation and funeral in Cape Breton Tuesday and Wednesday and I must say the overwhelming support from a close connection and community filled the room and chapel with love , abundance and blessings. I felt very welcomed by all and enjoyed meeting everyone. He was my BEST MAN at my wedding in 2016 and was eager to help in anyway possible. I spoke to his father and mother. You raised an amazing son and you should be proud of his accomplishments and the GLOWING SPIRIT present and the beautiful funeral service. I was very touched and moved. Michael did an excellent job with his Sermon, it was probably the best message I have ever heard. He will be remembered by all including myself for his steadfast love for his family and friends and coworkers. Always a joy to be around , I believe he was truly blessed , came from such a loving household and grew up with the best parents in the world as he mentioned you often. My sincere condolences. " look for him in rainbows , the morning sunshine and the stars every night." He will always be with you in your heart and soul. God Bless! His Spirit will always be ALIVE!
902-877-7718
From: CRAIG MACMILLAN
I'm writing this, as I sit outside in the dark, on a warm Texas summer evening. I was just now informed of Scotty's passing. It stopped me in my tracks and I had to sit down and to consider the reality of his departure from our early world.
I haven't been in touch with Scott in far too long, but I vividly remember our last conversation and how happy he said he was. This was years ago, probably shortly after he had moved to Toronto. I have no idea where I was at the time, but conversation was like it always was — genuine.
I got to know Scotty, back in college and I considered him a good friend. He had the brightest, most welcoming personality that could draw anyone out. He was kind and he was good. I admired his unfettered delight during the good times and his ability smile during the hardest of times. He will always be apart of my memories of those school days. Scotty will never be forgotten by those of us, who loved him.
From:  Tassey Kennedy