Sydney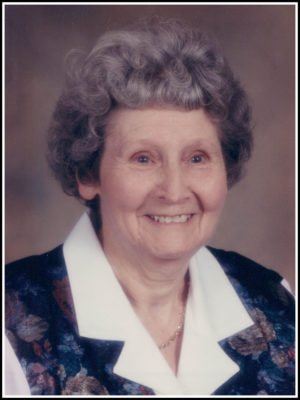 We regret to announce the peaceful passing of our loving mother, Ella Marie (Kennedy) Falt, age 98, on Saturday, March 30, 2019, at Victoria Haven Nursing Home, Glace Bay.
Born on August 11, 1920 in Sydney, Ella was the daughter of the late James and Madeleine (Spears) Morley. Ella is the last surviving member of her immediate family.
Ella is survived by her sons, Steven (Beverly), Robert Victor (Anne) and step-son, Lemuel Falt; grandchildren, Kim, Darren (Mary Jayne), Rob (Carmen), Laura, Christeen (Terry) and Robert (Lori); great-grandchildren, Evan, Holly, Sonya, Matthew, Keegan and Campbell; great-great-grandchildren, Emma and Zach; sister-in-law, Elizabeth Morley and her extended family.
Besides her parents, Ella was predeceased by her first husband, Christopher Kennedy; second husband, Frank Falt; brothers, Ralph Morley, Stuart Morley and sister, Ruby Kennedy.
Ella enjoyed sewing and knitting. She loved to dance and play tarabish. She was an excellent housekeeper and cook. Ella was known for her sharp wit. She was employed for sixteen years as a floral designer at Rhymes Flowers. She was a member of Bethel Presbyterian Church and a member of Luther Young Aux. A.M.S. Bethel Church. She will be missed by all who knew her.
Visitation for the late Ella (Kennedy) Falt will be held on Wednesday, April 3, 2019 from 2-4 p.m. and 7-9 p.m. at the Pier Community Funeral Home, 1092 Victoria Rd. (entrance on Church Street), Whitney Pier.
Funeral service to celebrate the life of Ella will be held at Pier Community Funeral Home on Thursday, April 4, 2019 at 2 p.m. in the All Faith Chapel. Following the service, a light lunch will be served in the funeral home reception area.
A private family interment will take place in Forest Haven Memorial Gardens, Sydney at a later date.
Donations in memory of Ella may be made to the charity of one's choice.
Funeral arrangements are entrusted to the care and direction of Pier Community Funeral Home.

         Online Condolences
O