Whitney Pier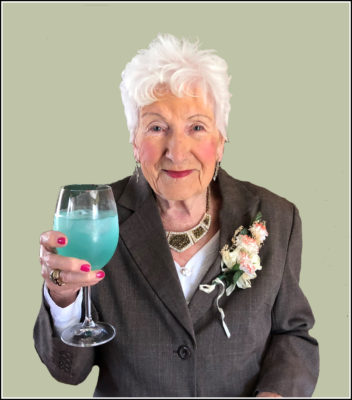 It is with heavy hearts that we, the family, announce the passing of Mary Christine Clarke, 94.
Mary was a very proud mother, grandmother, and great-grandmother. She passed away peacefully with her family at her side on Tuesday, March 26, 2019.
Born in Sydney, Mary was the daughter of the late Alexander and Mary Kanchuk. She was a beautiful mother who loved being surrounded by her family and friends. She also loved baking and cooking, especially her delicious polish dishes. Christmas was a special time for Mom, always preparing her famous pierogies for her family. Whatever the occasion, you could be sure that Mom toasted everyone with "NOSTROVIA", meaning good luck in Russian.
Mom lived for her family and she was extremely proud of her children, grandchildren, and great-grandchildren, she enjoyed spending time at her beloved Dominion Beach, being outside in her flower gardens, bowling and was an avid walker.
Mary will be missed immensely by the love of her life, best friend, and husband of 74 years, Walter Clarke.
Mom will also be deeply missed by her son, Philip (Krista); son, Allan (Eileen), and daughter, Dianne. Mom was also blessed with eight beautiful grandchildren, Jason, Jared, Amanda (Joe), Troy, Brittany, Brent, Joshua, Jonah, and great-grandchildren, Aria, Clarke, and Calissa.
Mom was predeceased by her oldest daughter and special angel, Lydia Inch; her very special son-in-law, Shane Befurt; brothers, Alex, Paul, William, Stanley, and sister, Helen.
Mom will be dearly missed by many special people in her life, her cherished nephew, Leo MacLeod; her very special friends, Herb and Catherine Lewis, Dawn Young, and Theresa Delarenza.
In keeping with moms wishes, a private family service has been held. Thank you for your prayers and support as we journey through these days of loss.
Funeral arrangements were entrusted to the care and direction of Pier Community Funeral Home.
Losing a mother happens in a moment but takes years to come to terms with and understand the impact of your loss.
We love you so much, until we meet again.

         Online Condolences
Our condolences to Phil and Alan on the loss of your Mom. May she rest in eternal peace. We also extend our Sympathy to the rest of the family
From: Jay and Debbi Duguid
We extend our sincere sympathy on your loss . Our thoughts and prayers are with you.
From: Ed & Doreen Tynski
Our sincere sympathy to Allan, Eileen , Jonah and the entire Clarke family on the passing of your beautiful mother. Our thoughts are with you during this difficult time. Take care!
From: Dave, Mary,Janine & Andrea French
Are hearts our broken to hear about Mary's passing.Mary was a beautiful lady always so friendly and loving. Prayers to all of you at this difficult time she will always be in are hearts.
From: Glady's Crewe,Linda & Kevin Gabriel