Sydney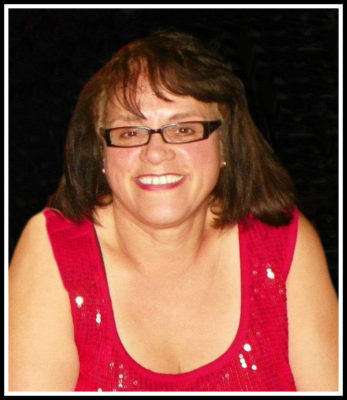 It is with heavy hearts, we announce the peaceful passing of Valerie Rose (Green) Andrea on Monday, March 25, 2019, at home in Sydney.
Born in Sydney on March 21, 1955, Valerie was the daughter of the late Roy and Katie Green.
Valerie loved life to the fullest and this was evident by the quality time she spent with family and friends. Eric was the love of her life and her children meant the world to her. Her kind and generous ways overflowed onto those around her. This brought much love and joy to her heart. Giving to others made Valerie the happiest.
Valerie was employed at the Membertou Day Care Centre, her dream job. Working with children was something she cherished, and she will be dearly missed by her co-workers as well as her "Day Care Children".
Valerie was a member of the former Trinity United Church in Whitney Pier and now the United Heritage Church.
Valerie is survived by her loving husband and best friend, Eric; sons, Jonathan (Shandar), Desmond, Mikida (Alicia); special 'daughter', Temika; grandchildren, Warren, Logan, Audrey and Callysta; siblings, Patsy (Whitney) Meade, Debbie (George) Green, Kenny (Betty), Gary, Karen (Gary) MacIver, Benjie (Judy), Marie, Adam (Laurel), Lorne (Stacey) and John; father-in-law, Dan Andrea; in-laws, Karen (Chris) Crocker, Kevin (Denise) Donnie (Bev), Gary (Sacha) and Janice Corbett as well as many nieces, nephews and several godchildren.
Besides her parents, Valerie was predeceased by her brother, Chuppie and mother-in-law, Stella Andrea.
Visitation for the late Valerie Rose Andrea will be held at the Pier Community Funeral Home, 1092 Victoria Rd. (entrance on Church Street) on Thursday, March 28, 2019, from 6-9 p.m.
Memorial service for the late Valerie Andrea will be celebrated on Friday, March 29, 2019, at 11 a.m. in the United Heritage Church, Charlotte Street, Sydney with Rev. Duncan Roach officiating. A reception will take place in the lower level of the church following the service.
Private family interment will take place at a later date.
In lieu of flowers, donations in memory of Valerie may be made to Boys & Girls Clubs of Cape Breton – Whitney Pier Youth Club.
Funeral arrangements are entrusted to the care and direction of Pier Community Funeral Home.

         Online Condolences
Our Deepest Condolences to Eric and Family along with the Green Family words can't express the great loss of a wonderful wife , mother and friend. Valerie was a kind, warm, fun loving person who always enjoyed life. Valerie always like to remember the good times when growing up on Curry's Lane were the best of times. As kids we didn't have much but we had fun and laughter. which made each day a blessing Valerie loved her community and was always given her time to make it a better place . Valerie was like a part of our family and this is also a big loss to us. May god hold you in his arms and comfort you during this loss. May God bless you and your family.
From: Roslyn for Dianne Alleyne & Family
My sincere condolences and thoughts are with Valerie's family. She will be missed by all.
From: Wendy MacIntyre
Our deepest condolences to our friend. We can never forget her kindness, and that contagiuos smile and laughter. To the family, may God bless you and keep you in this time. May she Rest In Peace.
From: Debbie and Donna Marshall
Life is but a stopping place,
A pause in what's to be,
A resting place along the road,
To sweet eternity.
We all have different journeys,
Different paths along the way,
We are all meant to learn some things,
But never meant to stay.
Our destination is a place,
Far greater than we know,
For some the journey's quicker,
For some the journey's slow.
But when the journey finally ends,
We'll claim a great reward,
And find an everlasting peace,
Together with the Lord.
From: Rev Elaine & Deacon Joe Walcott
My deepest sympathy to Eric and family and all of the Green family .My thoughts and prayers are with you all at this time. Val will be deeply missed by all who knew and loved her
From: Barbara Redmond ( Rowe)
Remembering Valerie in her high school days … she gave expression to life with her warm, caring ways of lifting others up …. just her smile made others see the good in things and her laughter added joy.
My sympathy. May her happiness in life inspire us.
From: Judith Miller
Our deepest heartfelt condolences to the Andrea and Green family on the passing of Valerie. Our thoughts and prayers are with during the loss of your beloved Valerie. God Bless You All. May Valerie R.I.P.
From: Mary Borden Hurel & Laura Borden
To the families of Valerie,my deepest condolences on hearing of Valerie's passing. I am very sorry I cannot attend the service as I am out of the province.May she rest in peace.Such a lovely lady who will be missed by all.
From: David Simms
Benji, Karen, Adam & Family,
I was saddened to read of Valerie's passing. My thoughts and prayers are with you at this difficult time.
From: Chuck Drohan
Death leaves a heartache no one can heal, love leaves a memory no one can steal.
Please accept my condolences.
From: Heather Alleyne
Deepest of sympathy to Eric,Valeries' sons and her brothers and sisters. Her love, kindness and sparkle will be missed by all who knew her.
From: Betty Murphy
Our sincere condolences go to the Green family. Valerie was a beautiful person. Please know my prayers and thoughts are with you during this difficult time. God Bless
From: Carrie Jones & David Jones
My deepest sympathy to all the family. Valerie was an amazing lady her spirit contagious..to have known her was a blessing..Rest in Peace lovely lady..God Bless
From: Ali and Kevin Wylie
Our sincere sympathy to the Andrea and Green families. Our thoughts and prayers go out to the entire family.
From: Dave /Mary French and family
Our deepest sympathy to Valerie's family. Sorry we were not home to express this in person. Know that we are feeling your sorrow for the loss of a very special person whose energy and enthusiasm were an inspiration to all.
From: Allan and Marion McIntosh
Sorry to learn about the passing of Vallery.What I remember is her laugh and great smile.To her family I send my sincere condolences and keep in your heart all the memories that endeared her.to you.
From: Marlene Toussaint