Sydney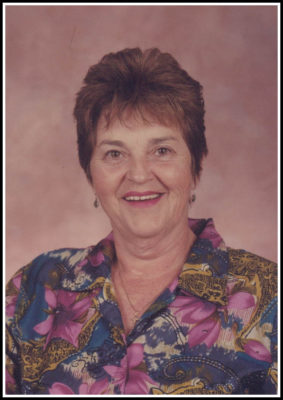 It is with great sadness that we the loving family of Margaret Jeanette MacIntyre, announce her peaceful passing at home surrounded by family and friends on February 11, 2019.
Born in Portage on May 28, 1941, Jeanette was the daughter of late John A. MacDonald and M. Eunice MacDonald of East Bay.
Jeanette will be lovingly remembered by her daughters, Judy MacIntyre, Eunice (Maynard) McGuigan, Kathy MacKinnon, Michelle Doucet (Terry Keating), Jane MacIntyre; her loving and valued life companion, Donnie MacLeod, Margaree; her grandchildren, Joleen (Adam), Nicole (Matthew), Jeanette (Majid), Mike (Shannon), Neil (Annabelle), Kristen (Bruno), Kyle, Ryan, Estelle, Candace (Felix), Joshua; great-grandchildren, Nathan, Alex, Lillian, Haylee, Lily; loving brothers, John (Louise) MacDonald, Michael B. MacDonald; her closest friend, Marie and loved cat, Finnegan.
Jeanette thought fondly of her time in Margaree where she was an active member of St. Joseph Parish SW, spending time at her cottage gardening and in the company of her life long friends that she held so dear. Jeanette had a kindness and compassion for all animals that spread throughout the community.
Besides her parents, Jeanette was predeceased by her husband, Michael J. MacIntyre and brother, James MacDonald.
Cremation has taken place.
Visitation and memorial service to celebrate the life of Jeanette MacIntyre will be held at St. Joseph Parish, South West Margaree on Monday, February 18, 2019. A gathering of family and friends will take place from 1 – 2 p.m. with the memorial service to follow at 2 p.m.
In lieu of flowers, donations can be made to Palliative Care or the SPCA of Cape Breton.
Special thanks to Father Patrick O'Neil, Cape Breton Cancer Centre, Palliative Care, Dr. Steven Hall and Cape Breton VON. Special thanks to Donnie MacLeod for being there for Mom and the family.
Funeral arrangements are entrusted to the care and direction of Pier Community Funeral Home.

         Online Condolences
Michelle, Judy, Eunice and Family: We are so sorry to hear of your Mothers passing. Your Mom sure knew how to make us laugh with her great sense of humor. May all the wonderful memories you have together help you through the days and weeks ahead. Keeping you all in our thoughts and prayers during this difficult time.
From: Staff of Regional Chiropractic
Judy, Eunice, Kathy, Michelle, Jane and families
So very sorry to hear about your Mother. I have many fond memories of her from her days on Tartan Drive and the Morley Road! Always made a great sloppy Joe!
Know that I am thinking of all you during this most difficult time
Our deepest condolences
Mary & Roddie Keeping
From: Mary Keeping
Dear Judy, Eunice, Cathy, Michelle and Jane, my heart broke when I learned of your Moms passing. So many great memories of our Mother and Father's friendship along with my own with you girls. So many sleep overs and just loved so much being around your Mom. Such a beautiful warming smile, always. Loved running into her over the years and it was always like we had just seen each other yesterday. My Mother's best friend. So sorry for the loss of your Mom. And so sorry that I am unable to attend service, but you all are in my heart. Love Deneyse.
From: Deneyse Johnston
We were so very sorry to hear of Jeanette's passing. She used to babysit our children and they were so fond of her as were we. She always had a smile and we had many a good laugh. We often spoke of Jeanette over the years and wondered how she was. She was a beautiful lady both inside and out and will be missed terribly. Please accept our deepest condolences at this sad time. Love Annette and Bernie Pino
From: Annette and Bernie Pino
Judy,Eunice,Kathy,Michelle and Jane and your families,
I just heard that your mom had passed,I'm so very sorry for your loss,I have fond memories of your mom when you lived on The Morley Road, may your memories give you comfort.
From:  Bonnie( Poirier) Keefe