Whitney Pier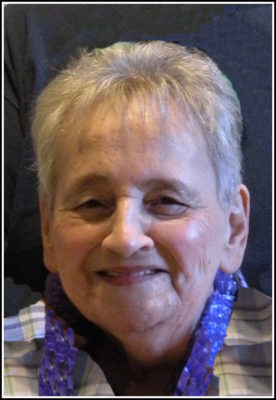 It is with broken hearts that we announce the passing of our dear Lila Dufour, loving and wonderful mother, wife, grandmother, great-grandmother, sister and friend. Lila passed on February 18, 2019, at home in the arms of her loving family after a courageous battle with cancer.
Born on November 1, 1937, in Sydney, she was the daughter of the late Mildred and George LeRoy. Mom will be forever missed by her husband of 62 years, 'Buddy' Douglas; children, Patricia (Don), Carol, Doug (Trish), Debra; grandchildren, Meaghan, Michael, Steven, Jennifer; great grandson, Macklyn George; loving sister, Joan (Harvey) and many nieces, nephews and cousins.
Besides her parents, Lila was predeceased by son, George; sister, Anita; two special uncles, Alvin and Leo Deveaux; grandparents, Jeffery and Catherine Deveaux, Rosalie and Louis LeRoy and step-grandfather William Fewer.
Mom leaves us with fond memories of her playing darts, bingo and 50 years of Sunday night cards. Her greatest pride and joy have always been her children, she would say "I love you more than life itself."
Thank you to the Palliative Care team for your help and kindness. A very special thank you to the VON (Helen and Wendy), and the many more nurses who provided exceptional care to our Mom.
As per Lila's request, cremation has taken place under the direction of the Pier Community Funeral Home.
Online condolences may be forwarded to the family at www.pierfuneralhome.com.
"MOM WE LOVE YOU MORE!"

         Online Condolences
God I loved her many years ago, darts at cosmos club, she was the best, soo sad, always laughing, I remember her and snooks Steele, what a team, my sincere heart feelings on her passing, I'm shook by this
From: John Bates
So sorry to hear of the passing of your Mom. I remember how sweet she was and always had a smile on her face. May she Rest In Peace.
From: Roseann MacIntosh
To Doug and the Dufour Family:
Words cannot express how saddened we are to hear of Lila's passing. Praying that with the love and support of family and friends it will help give you strength to get through today, tomorrow and all the days to come. With deepest sympathy and sincere condolences. God Bless
From: Staff Of Sydney Mitsubishi
I remember her always pleasant welcome and wonderful smile. My thoughts are with you at this difficult time.
From: Joe MacIntyre
My deepest condolences to my Canadian family. I loved my adopted "sister" and have many fond memories of Lila, Anita and the rest of you! May you find comfort and peace now that Lila is no longer in pain…and may God continue to bless you all. Love and hugs
From: Nikki Briere
It is almost impossible to imagine our life with our mom around. You were all blessed with an amazing mom who was happiest when the house was full kids coming and going. Hang on tight to all you wonderful memories. She filled your hearts with love and gave you all she could. I am sorry for your loss
From: Belinda snow