Whitney Pier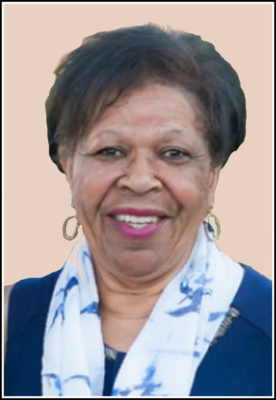 It is with heavy hearts that we the family announce the passing of our beloved mother, grandmother, sister and loyal friend, Alice Eileen Ash. This angel got her wings on February 14, 2019 at the Cape Breton Regional Hospital surrounded by her family and best friend.
Alice was born in Mulgrave on May 2, 1943 to the late Norman and Ada Ash. She is survived by her daughter, Linda (Louie); sons, Wally (Mona), Dennis (Amanda), Blair, Darren (Jennifer), Corey (Joann); brother, Silas Ash; sisters, Rita, May and Ardella as well as 14 grandchildren and 2 great grandchildren plus many loving nieces and nephews. Alice will also be deeply missed by her best friend, Sharon Kirton, who was with her until the very end, and the father of her children, William Talbot Sr. as well as her "fur baby", Precious.
Besides her parents, Alice was predeceased by her son, Curtis; brother, Raymond; sisters, Helen, Annie and Evelyn.
Alice was a very proud and humble woman who was loved by all that had the pleasure of knowing her, she will be fondly remembered for her sarcasm and quick wit. She could make you laugh without even trying to, everyone who had the pleasure of being in her company would agree. She loved life and loved to laugh and have a great time. Her family was always her first priority. We the family had her on a pedestal often referring to her as our "queen". It is almost impossible to put into words how truly amazing she was. Mommy was the matriarch and the foundation of our family. She will always be in our hearts and we will love and cherish her forever. She loved to cook and would always offer a hot meal to anyone in need and will also be remembered as the lady who makes the hot sauce.
Visitation for the late Alice Ash will be held Wednesday, February 20, 2019 from 2-4 and 7-9 p.m. at the Pier Community Funeral Home, 1092 Victoria Road (entrance on Church Street) and the funeral service to celebrate her life will be February 21, 2019 at 11 a.m. in the All Faith Chapel.
In lieu of flowers, donations in her memory can be made to the Whitney Pier Youth Club or charity of your choice.
We would also like to extend a sincere thank you to the nursing staff from the ICU for your excellent care and compassion given to our mother.
Funeral arrangements are entrusted to the care and direction of Pier Community Funeral Home.
"This is for you Mommy – Our Beloved Queen. The Queen who gave us Life. How grateful we are for you giving us the best life a Mother could ever give. We may have lacked so many things this world can buy-but we are full of the things that money can't buy – your LOVE, that was enough to make us the richest."

         Online Condolences
I am so sorry to all the family my heart is with you all she was a lovely lady and the obituary said it all so well well Alice may you rest in peace until we meet again
From: Leotta Cameron
The Alleyne family would like to give our condolence on the sudden loss of your mother Alice. She was a wonderful and strong person who overcame many hardships that life gave. Her greatest joy in life were her children and the love she passed to them. So as you think about your mom through the difficulty times to come always remember her smile, her laughter, and your happy times together and god bless you.
From: Dianna Alleyne
Sending my condolences to the family. Sleep in Heavenly Peace Aunt Alice love you so much you will truly be missed by so many.
From: Sonya Reddick
To the family: now that your queen has earned her wings and reunited with her loved ones in heaven she will never die in the hearts of so many family and friends here that had the privilege of being touched by her loving hands. Rest in heavenly peace Alice as you live on forever in the hearts and lives of your family. May God comfort you all at this very difficult time
From: Denise Daye
My condolences to the family. My thoughts will be with you.
From: Cathie Holland
My heartfelt condolences to the Talbot/Ash families the loss of your Mother was like losing a family member I've known your Mother all my life she was a funny , kind and good natured person. God Bless You all May your Mother R.I.P.
From: Gerard & Mary Borden Hurel
So sorry for your loss she will be missed by many God bless you all
From: Janie Webber
Heart felt condolences to all of the family & community whom knew her. She will be missed & i am very sad to have heard this news. Rest in peace to a beautiful soul gone too soon.
From: Tara Lucas
So very sorry for your loss. My deepest condolences to the Talbot family.
From: Peddler and Marlene
Linda, Wally, Dennis, Blair, Darren, Corey and Family: We are so sorry to hear of your Moms passing. Keeping you all in our thoughts and prayers during this most difficult time.
From: Joel, Angela and Michell
Sympathy to the Ash and Talbot Family at this difficult time.
From: Dave French and Family
I am so sorry to hear of your mother's passing.. She was one of the sweetest ladies I had the pleasure of knowing . A smile that would light up the room. And kind to a fault . Always had a nice word to brighten your day. I am sure she will make the heavens an ever better place with her smile and enormous heart. We are very lucky to have had the pleasure of saying she was a family friend . She will greatly missed.. My heart goes out to her family at this time…
From: Valery Bobbett
To all the family we send our deepest regrets for the loss of your mother , grandmother.
Words cannot convey the sorrow and pain we feel for you all . Our thoughts and prayers are with you
From: Valerie and Eric Andrea and family
I extend my heart felt condolences regarding the loss of your Mom. I will always remember her smile and gentle ways. May you all find some confort in the fond memories and good times that you shared. God Bless you all at th is time and Always!
From: Carl Crawford
Our Sincere Condolences To: The Talbot Family & Wally, Mona & Family….
We are deeply saddened upon hearing the news of Alice's passing. Our thoughts and prayers are with Alice and her family during this sorrowful time. She will truly be missed and will always be remembered fondly. We wish you All, peace, comfort and courage to face the days ahead without her. Cherish her beautiful memories with joy and love, and all the wonderful times together. It is these cherished memorable moments that will keep her here with us, to forever hold in our hearts. May the outpouring of sympathy, the kind acts of friends, comfort you in knowing that your loss is felt by so many who care and loved Alice… I will miss you Alice, always & forever. xoxo
We are sincerely so sorry for your loss.
From: Garfield, Florence, Wanda, Marion & John