North Sydney / Sydney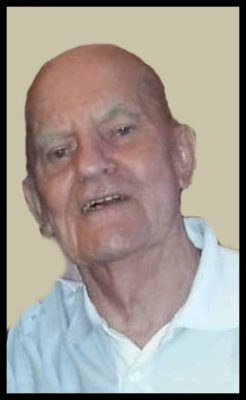 It is with broken hearts that we, the family announce the passing of our wonderful father, William Calvin 'Kelly' Ferguson on Saturday, January 26, 2019 on Unit 4 East at the North Side General Hospital, North Sydney.
Born in Whitney Pier, Kelly was the son of the late Charles Ferguson and Margaret (MacKeigan) Ferguson of Loch Lomond.
Kelly was a "True" Pier boy to the end! He spent his younger years growing up on Lingan Road in Whitney Pier. In 1961, Kelly married the "LOVE" of his life, "Gerry". Together they lived in Ashby; never to move to another home. You could take Kelly from the Pier, but you could NEVER take the Pier out of Kelly. Family was "Everything" to Kelly. Together with Gerry he "idolized" his three boys and three grandchildren.
Kelly attended Sydney Academy. At the age of 18; he started working at The Steel plant. Kelly always said that he was laid off more times then what he worked. Kelly was a Strong union man; serving also on the Police commissioners board; Canada Pension Tribunal board and a strong supporter for the NDP during elections. Kelly retired from Sydney Steel in 1988. After retirement; he tried his "Left" hand at Everything! He took up painting; photography; gardening; crossword puzzles and reading. Kelly had a knowledge of anything and everything!! Together with Gerry; their home was everything. Their "Tireless" work was evident. The door was open to everyone and anyone for a hot cup of tea and something to eat. Kelly was the neighborhood "Go to". He would help any neighbor in need; whether the task was big or small…NEVER to say "No"!
With his "Endless" love for the last 12 years; Kelly was the main caregiver for his wife Gerry until her passing in June 2018. For the last 7 months; Kelly died from a "Broken" heart.
Kelly was the last surviving member of his immediate family.
Left behind to keep his memory and legacy alive are his "three boys", John (Wendy) Ferguson, Raymond (Corinne) Ferguson, David Ferguson and "three" cherished grandchildren, Katelyn (his #1 girl), Ryan and Peter. Kelly is also survived by his sisters-in-law, Shirley, Faye, Hazel Moore and brother-in-law, Gussie (Myrna) Moore.
Besides his parents, Kelly was predeceased by his siblings, Charlie, Stuart, Donald, Johnnie, Crisella MacInnis, Mae MacDonald and Ada O'Callaghan.
Visitation for the late Kelly Ferguson will be held on Wednesday, January 30, 2019 at the Pier Community Funeral Home, 1092 Victoria Rd. (entrance on Church Street) from 5-8 p.m.
Funeral service to celebrate the life of Kelly will be held in the funeral home on Thursday, January 31, 2019 at 11 a.m. in the All Faith Chapel with a reception to follow. Interment will take place in Eastmount Cemetery, Whitney Pier.
Donations in memory of Kelly may be made to the charity of one's choice.
Thank-you to Dr. John Archibald and Debbie for your dedicated care and compassion for so many years as well as the "amazing" nurses and staff on 4-A CBRH and 4-East NSGH. Special thanks to Continuing Care and Homecare Services for making it possible for Kelly to be home with Gerry until her passing.
Funeral arrangements are entrusted to the care and direction of Pier Community Funeral Home.
Those we love don't go away,
They walk beside us every day,
Unseen, unheard, but always near,
Still loved, still missed and very dear.
                              Gaelic Proverb

         Online Condolences
So sorry for your loss John and Family Raymond and family and David and family. Your father was a great man and I will never forget the times at your home having conversations with both your dad and mom. RIP in peace Kelly and Gerry. GOD BLESS
From: Michael and Lisa Marmulak
Ray and family,So sorry to read of the loss of your Dad such a short time after your Mom.You are right to take comfort in the fact that they are reunited in heaven. Aleah
From: ALEAH ROSE MACNEIL
Wendy and John so sorry for your loss hugs and prayers are with your family
From: Henry and Joanne Singler
We were so very sorry to hear about Kelly's passing. Our Deepest Condolences to you all.
From: Carleen & Jim Candelora
My condolences to the Ferguson family. I always enjoyed speaking with Kelly and admired the lifelong friendship he shared with my dad.
From: Ann Marie Kiley
David,
So sorry to hear of your Dad's passing. Sally keeps me up to date.
Take care of yourself and your family. All the best.
From: Bobby Hussey
John, Raymond, David and families, so sorry to hear of your fathers passing. He and your mother were such dear friends. I remember all the great times we had in Margaree. I had been to visit after your mother had died and saw how heartbroken he was. They are together again. My thoughts and prayers are with you and your families at this very difficult time. Take care!
From: Anna Kehoe & family, Port Hawkesbury
I am saddened to hear of Kelly's passing. He was the first one to introduce himself when we moved across the street, a very warm welcome and many stories over the years. He offered to help if ever we needed it. My 3 children loved talking to him and we learned he knew my husband's family well. My sincere condolences are sent to all the family. May Kelly rest in peace with Gerry.
From: Debbie MacDougall and family