Sydney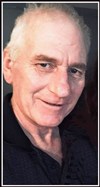 It is with deepest sorrow that we, the family, announce the peaceful passing of Murdock Joseph Whalen, age 58, on Tuesday, June 26, 2018 at the Cape Breton Regional Hospital, Sydney, with his loving family at his side.

Born on July 7, 1959, Murdock was the son of Theresa Ann (Duffney) and the late James Matthew Whalen.

Murdock was an avid Montreal Canadiens fan and was known to be very kind and at times saucy and witty. He drove taxi for City Wide for over thirty-five years. He bowled for many years in the men's commercial league. He will be missed by all who knew him.

Murdock is survived by his wife of 33 years, Elizabeth 'Liz' (Gibbons) Whalen; mother, Theresa Ann; children, Ryan (Megan), Ashley (John), Christopher, Murdock Jr. (Jennifer), Bradley (Ambre) and Paula (Ian); grandchildren, Tamara, Kylie, Hannah, Luke, Nathan, Sophia, Skylar, Scott, Spencer and Alexander; siblings, Jim (Sharon), Ronnie (Karen), Brian (Helen), Debbie, Alice and Valerie (Roger); sister-in-law, Agnes; grand-dog, Duster; as well as extended family members.

Besides his father, Murdock was predeceased by his brother, Raymond and his sister, Patricia.

Visitation for the late Murdock Joseph Whalen will be held at the Pier Community Funeral Home, 1092 Victoria Rd. (entrance on Church Street) today, (Friday), June 29, 2018 from 5-9 pm.

Funeral Mass will be on Saturday, June 30, 2018 at 10 a.m. in Holy Redeemer Church with Fr. Paul Murphy officiating. Following the Mass a luncheon will be held in the Pier Community Funeral Home. Interment will take place at Resurrection Cemetery, Sydney Forks.

Donations in memory of Murdock may be made to the Hospice, Palliative Care Society of Cape Breton.

Funeral arrangements are entrusted to the care and direction of Pier Community Funeral Home.

Send an online condolence.





Online Condolences

Sorry for your loss
From: Marie (Costigan) MacIntyre
We were so sorry to hear of Murdock's passing. Our thoughts and prayers are with you in your time of sorrow.Murdock is in the arms of God and mayn he rest in peace.
From: Brian and Debbie Costigan
Liz and family, my thoughts and prayers are with each one of you during the terrible time in the loss of your husband( father)( grandfather).May God watch over you all at this time.
From: Carol Dithurbide
Sorry for the lost of great uncle that was always there when you needed him and at time of needed and say hi to mom when you see her again
From: Daniel Hillierbide
So sorry for your loss Liz and family. I have many fond memories of waiting on Murdock at Tim's on Prince Street. Prayers and hugs to all.
From: Marla Brown
My sincerest condolences to you and your family.
From: Leanne MacDonald
Sending my condolences to the family at this difficult time. Murdock drove me to school when I was a young girl, such a great man very genuine and kind. Thank you so much Murdock for being a wonderful taxi driver one of the best in my eyes. Rest in peace
From: Colleen
So sorry for your loss Liz. He was always such a pleasant and friendly man. My deepest sympathy to you and your family. Treasure your memories. Rest in peace Murdock.
From: Shirley Mclean

Liz, so sorry to hear of Murdock's passing. Lot's of laughs with both of you during my Tim's years! My thoughts are with all of you.
From: Babrara (Ardelli) Mattie

Sorry for your loss Liz and family from Fred and Mary
From: Mary Broussard

Liz sorry for your loss. Hugs to you and your family.
From: Pat and joyce duffney
So sorry your family has had this loss of a great father and husband.My thoughts and prayers are with you all.
From: Brenda Sibley
Deepest sympathy to all family & friends, at this time. Hugs …….. Doddy & Bobby Keel ((Hollohan) Truro N.S. ( Whitney Pier)
From: Doddy
Auntie Liz, Ashley and Ryan, I am so sorry for your loss. I was heartbroken to hear of Uncle Murdock's passing. He was always so much fun with us and I'll miss his sense of humour. My favourite memory of him was getting to celebrate his wedding day with you. He is loved and will be missed. xox
From: Dawn Marie
May the words of comfort and condolence be with you and your family and Murdock's siblings. We were so sorry to hear of Murdock's passing. Our prayers and thoughts are with you.
From: Ron and Anne LeDue
My sincere condolences to the Whalen Family on the passing of Murdock. My thoughts and prayers are with you all at this difficult time. God Bless
From: Stella Walcott
So sorry for your loss Liz, Murdock was one of a kind, always had a smile when you got in his taxi??He will be missed deeply. My condolences to you and your family, God Bless you??
From: Della King
we are so sorry to hear of the sudden passing of Uncle Murdock. Our thoughts and prayers are with you all. Much love sent your way.
From: Adam and Theresa Stadnicki
Liz, so very sorry to hear about Murdock's passing. He was quite the character-saucy on the outside but a teddy bear on the inside. He will be truly missed by all who knew him. Danny, Treena and Monica
From: Treena Morrison
Sending my condolences to Liz and family my sympathy is sent to you and your family my Brother Murdock was a great father and Husband and I am going to miss him at least he's not suffering any more he he is with God in Heaven and his Dad and Brother Ray and and his Sister Pat with love from Alice
From: Alice Whalen