South Bar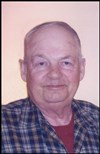 We, the family of Bill Sampson regret to announce his passing on Monday, May 14, 2018. He passed peacefully at home, with his devoted wife and children at his side.

Bill was the son of the late Freeman and Blanche Sampson.

Bill is survived by his wife, Delores (Duffney); their three children, Kelly (Nancy), Stewart (Melanie) and Tracy (Colin); his grandchildren whom he cherished, Emily, Jeffrey, Sarah, Jocelyn, Jacqueline, Grace, and Avery; great-grandchildren, Rankin and Flora 'Chicken'; brothers, Edward (Dorothy) and Phillip (Shirley); in-laws, Pat (Joyce) and Susan(Eric); as well as many nieces and nephews.

In his earlier years Bill was employed by the MacLellan's and MacLeod's dairies in South Bar, went on to work at the coke ovens at the former steel plant and in later years, was self-employed as a Fisherman.

Bill was a shining example of a strong work ethic, was quick with a joke that could make any one laugh and could always be found spending his days working hard to perfect his various fishing and pleasure boats.

Bill's many hobbies included hunting, fishing, and enjoying spending time with his loving wife and his grandchildren at his beloved bungalow on the St. Peter's canal. Bill was a lover of all animals, from his many pets over the years, to any bird or squirrel who visited the bird feeder outside of his window.

Bill was loved by all and had a special bond with many close friends, here at home and in St.Peters.

We are much appreciative of everyone who took the time out to come, visit our dad and make his day by sitting down to have a cup a tea and enjoy the company of others over the years. Special thanks to treasured friends, Dwayne, John, and Dave.

Visitation and memorial service to celebrate the life of Bill Sampson will be held at Pier Community Funeral Home, 1092 Victoria Rd. (entrance on Church Street) on Friday, May 18, 2018. A gathering of family and friends will take place from 2-3:30 p.m. with service to follow at 4 p.m. in the All Faith Chapel with Fr. Paul Murphy officiating. Light refreshments will be served in the funeral home reception area following the service. Private family interment will take place at a later date.

Donations in memory of Bill may be made to the Heart & Stroke Foundation.

Funeral arrangements are entrusted to the care and direction of Pier Community Funeral Home.
Send an online condolence.





Online Condolences

Our condolences to all of Bill's family, may God rest his soul. From the entire Schaump family
From: Marlene Miles
My thoughts and prayers are with you all during this difficult time.
From: Carol Smyth

Sincere condolences on Bill's passing. My thoughts and prayers are with you all during the difficult days ahead. Jimmy Sheppard (Victoria Mines)
From: Jimmy Sheppard
Delores Tracy,Stewart and Kelly our sincere condolences go out to you on your loss…cups of tea and conversation will be missed…
From: Dave&Sheila Fraser
Our thoughts are with you all at this difficult time.
From: Tony & Estelle O'Neill