Aspy Bay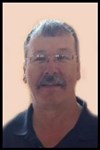 It is with great sadness and heavy hearts that we announce the passing of such a wonderful man. David Rambeau, age 57, passed away on Tuesday, March 27, 2018 at the VG Hospital, Halifax, surrounded by his loving family. He was a beloved husband, Dad, brother, son-in-law, uncle, grand-uncle. cousin and godfather.

Born on May 20, 1960 in Halifax, David was the son of the late Stevie and Delphina Rambeau.

David was a person who had a positive effect on all who knew him. He had a smile for everyone. He will be remembered as kind and gentle, a deep thinker and one with quick wit. He was able to do whatever he set his mind to. He could figure anything out that was put before him. He was our "David of many trades" – he could fix anything and even built the family home as well as many other renovations and many other homes.

David was an avid fisherman sailing the seas from Newfoundland, Greenland, Norway, Halifax, and all the way to the shores of Smelt Brook. He worked as a crew member, first mate aboard the Concordia and Captain of the Swell Master.

David loved to drive and his latest career was a Service Truck Driver with "The Crew" at Dexter Construction.

David came from a very musical family and wrote many songs for his brother to sing. He loved listening to music and singing karaoke. He also had a passion for reading a good book. David loved hockey and played for the Smelt Brooke Raiders in his younger years. Like his brothers he loved the Montréal Canadiens. He enjoyed his sisters raisin bread and date squares and loved Kim's blueberry desserts.

David married the love of his life and his best friend, Kim. They were together for 29 years and raised their one and only son, Dalton Wayne in Greys Hollow. He was David's pride and joy.

David is survived by his darling wife, Kim (Petrie); son, Dalton; brothers, Joey (Michelle), Bobby (Bonnie) and Arnold; sisters, Darlene McLeod and Wilma (Paul) Tilley; uncle, Frankie; aunt, Susie (Douglas) Briand; mother-in-law, Peggy Petrie; brother-in-law, Lloydie; sisters-in-law; Michelle (Joey), Catherine (Francis) and Georgeina (Robert); many nephews, nieces, grandnephews and grandnieces; cousins; five godchildren and many close friends. David will be greatly missed by their fur baby, Timbit.

Besides his parents, David was predeceased by his sister, Isabelle Rambeau; uncles, Joseph, Peter, Francis, William and John David; aunts, Margaret, Mary and Willena; father-in-law, Lloyd Petrie and brother-in-law, Maurice Petrie.

Both visitation and memorial Mass for the late David Wayne Rambeau will be held in St Joseph's Church, Dingwall, please refrain from wearing scented products. Gathering of family and friends will take place from 4-7 p.m. on Monday, April 2, 2018. Celebration of life will be held on Tuesday, April 3, 2018 at 2 p.m. with Fr. Lazarus Guria officiating. Interment will take place in the parish cemetery.

We would like to send a special thank you to the doctors and staff in ICU at the VG Hospital, Halifax Infirmary and Cape Breton Regional Hospital, as well as the Buchanan Memorial Hospital for the care given to David during his time of need. The care given was truly amazing and our family will always appreciate and remember each and every one of you!

Funeral arrangements are entrusted to the care and direction of Pier Community Funeral Home.

In David's words: "I Love to Live and I Live to Love"
Send an online condolence.





Online Condolences

A horrible lost for all of us that knew this big hearted, loving soul. I haven't seen David in years , but spending a lot of time with him in the summers When i would visit my grandparents. He has always stayed in my thoughts and will remind . He was a wonderful cousin and a man with this most beautiful contagious smile . Wishing his family , my cousins , finding peace, that he is at rest now.
My love to all, Wanda Briand
Dear Kim and Dalton, We are so sorry to hear of David's passing. You are in our thoughts and prayers.
Take care, Kevin and Anne Marie
So sorry to hear of David's passing. Big hugs to you Kim and Dalton and family .
From: Shauna Sams-Donovan
Our sincere condolences. May each happy memory be a joy in your hearts forever.
From: Mary Sue & Gladstone
So sad to hear off David's passing ..Heartful sympathy to you Kim and your son Dalton..God bless you and Dalton om the many day's difficult days to come..
Love Helen and Andre.. P..
Beautifully written memoriam of a great man. Sending our love and sincere condolences to Kim, Dalton and all the family.
From: Joanne and Ben McKenzie
May God bless and comfort you and your family during this difficult time, please accept my sincere condolences.
From: Val Gillis
Our Sincere Condolences Kim & Dalton,The Rambeau & Petrie Familes, Our Thoughts & Prayers are with you all.
From: David & Marie MacDonald
Kim and Dalton With much sympathy for your loss. Our thoughts are with you and your families at this difficult time. Treasure all the wonderful memories you have.
Love Heather & Kevin
To David's Family, Thinking of you today, in the great sorrow you are going through in the loss of David. Our prayer is with you.
Love cousin, Aggie (Rambeau), husband, Melvin Pearo & Girls, Alder Point, C.B.