Victoria Mines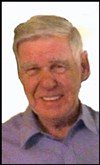 With broken hearts we the family of Donald Richard Burke, regret to announce his passing on Thursday, December 28, 2017 at home surrounded by his loving family.
Born April 18, 1943 in Sydney, Donald was the son of the late Neil and Christina (Seward) Burke.
Don is survived by his loving wife of 51 years, Sheila (McCormick) Burke; daughters, Lisa Campbell, Leanne Burke and grandchildren, Sasha MacDonald and James and Jalise Campbell.
Don is also survived by sisters, Sandra (Morris) and Betty (Gordie); brothers, Jimmy (Donna) and Johnny (Evelyn); sisters-in-law, Joan King, Ursula Bradford and Dale Bradford; many nieces and nephews and special longtime friends, Helen and Frank Williams.
Besides his parents, Don was predeceased by his biological mother, Stella Bradford and brothers, Bernie and Leonard Bradford.
Don worked at Sydney Steel, loved to play his guitar and enjoyed spending time with his family. Swimming in the pool and sitting around the fire pit were a few of his favorite things. Don enjoyed planting and tending his garden and he could fix anything he put his hand to. Don was a grateful friend of Bill W. and he loved his cat, Darby.
Don's family would like to extend special thanks to Dr. Glenn Gracie, VON and palliative care staff for the care given to Don in his time of need. A special thank you to neighbours, Kevin and Glenice Head.
At Donald's request there will be no visitation or service.
Donations in memory of Donald may be made to charity of one's choice.
Funeral arrangements are entrusted to the care and direction of Pier Community Funeral Home.
Send an online condolence.





Online Condolences
Our deepest condolences to the family of uncle Don . Will be sadley missed I will never forget all the amazing times we had with you growing up. You were the rock of the family. You will be missed by all so many. When I look up at the sky at night you will always be our shinning star. The Casey and McCormick family.with love .
From: Cheryl and Brandon Casey
My Condolences to all of you. Such a Great Person. RIP Don.
From: Darcel Christie
Dear Sheila, Lisa, Leanne and family's So sorry to hear of Don's passing, a huge loss for you all. The many hours I spent with Donnie were filled with laughter and learning for both of us, but which ever it Was, it was fun to spend time with him. I admired him always. All our love Mike and Colleen
From: Mike Mac Pherson
Words can't express our sadness to hear the passing of Donald,Our thoughts & prayers will be with you & family at this time.
From: Sandra & Maurice Quinn
Dear Sheila, Lisa, Leanne and Families, our deepest condolences on the passing of your husband, father and grandfather. He truly was a wonderful man. May he rest in eternal peace. Love and prayers to all. OX
From: Cheryl & Mark Butler Berkeley
Dear Sheila, Lisa, Leanne and family So sorry to hear of Donnie's passing. May happy memories comfort you in the days to come.
From: Joanne Tynski

So sorry for your loss, our thoughts and prayers are with you at this very difficult time. Take care??
From: Monica , Rick Kokoski
MY sincere condolences to the family of the late Don Burke
From: Malcolm Campbell
Our hearts are filled with sorrow upon hearing the news about your father's passing. Our most sincere condolences.
From: Rachel & Dennis Farrugia
Tom & I are so sorry & I only wish we could be there for you & the girls. Love you.
From: Sally & Tom Rogers
Our thoughts and prayers are with your family.
From: Norm& Mary kennedy
I was saddened to hear of Don's passing and want to extend my deepest and most heartfelt condolences to Sheila and Lisa and his immediate family members. He was a good husband , father, grandfather, and friend to everybody. He will be missed by all who knew him.
From: Ann philpott(Dancsecs)
so sorry to hear of don,s passing,he will be missed by all he touched on his journey.may god give you comfort in your time of sorrow.friend in a.a.john god bless.1
From: john c.mcintyre
Shiela , Lisa Leanne and their family's , I am so so sorry to hear about Don, I just heard , our thoughts and prayers are with you all and your family's . May god comfort your grieving hearts ?? love you Jerry , Michael and Sadie
From: Jerry Brewster
Our deepest condolences and sympathies are with you all in this difficult time. Uncle Don was a wonderful man and father and a dear brother to our late father Bernie Lots of love Jennifer, Matthew, Ursula Bradford and our families
From: Jennifer Pearcy
So sorry for your loss our deepest condolences Max and Marie
From: Max,Marie Weatherbee
Please accept our heartfelt condolences on Don's passing. He will always be remembered as a loving family member, quick with a smile and kind word. Our thoughts are with you during this difficult time.
From: Rose and Tom Evans, Donald DeLeskie/Bernice Landry
We were sadden to here of Donald,s passing.O deepest sympathy to you Sheila & family .May he RIP!
From: Alex&Deanna Mac Isaac
We are very sorry to see that Don has passed away. Don was always a good friend. Our condolences to Sheila and the family.
From:Debbi and Jay Duguid

To Don's family and friends, How does one say goodbye? So very very sorry of your loss Sheila, Lisa, Leanne and families. hold tight your memories and so will i. i remember him fondly always as a gentle soul who loved everyone and do anything for anybody. God Bless…i will give to the animal shelter here in Dartmouth, NS January 3, 2017 <3
From: Corinne Quinlan