Ross Ferry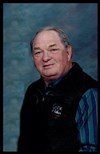 It is with a heavy hearts that we announce the passing of George Carleton MacAskill, age 75, on Wednesday, October 18, 2017 at the Cape Breton Regional Hospital, Sydney, following a courageous struggle with cancer.
George was born in Englishtown on November 3, 1941 to the late John A. and Margaret MacAskill. Self-employed, George lived most of his life in Ross Ferry.
George will be sadly missed by his wife, Marguerite (MacKenzie); daughter, Jennifer Daisley (Sheldon) and son, Alan (Glenda). He is also survived by brothers, Kennie (Lillian), Norman (Pat), Angus (Marion) and John A. (Donelda); sisters, Jane MacPherson, Carola MacDonald (Roddie) and Barbara Egan; as well as many nieces and nephews.
Besides his parents, George was predeceased by his twin brother, Archibald; brother, Allister (Donna); sisters, Laura Dauphney (AJ), Jessie Mudge (Tom), Anna Wilson (Jim), Tena Munro (Jim), Emiline Campbell (Carl) and brothers-in-law, Malcolm MacPherson and Leo Egan.
A memorial service to celebrate the life of the late George Carleton MacAskill will be held on Tuesday, October 24, 2017 at Drummond Memorial United Church, 10330 Kempt Head Rd., Ross Ferry, at 2 p.m. with Rev. Diane Kempt officiating. Following the service, a reception will be held in the church hall.
A private family interment will take place in the church cemetery at a later date.
In lieu of flowers, memorial donations in memory of George can be made to the Drummond Memorial United Church Cemetery Fund, Cape Breton Regional Hospital Cancer Centre Fund, Gaelic College Foundation or charity of one's choice.
Funeral arrangements are entrusted to the care and direction of Pier Community Funeral Home.
Send an online condolence.





Online Condolences

Sorry for your loss. Our thoughts are are with you.
From: Charles and Patsy MacLeod
So so sorry to hear of the loss of your husband. Thinking of you and your family in this difficult time. Prayers Love Lois MacLellan
From: Lois MacLEllan
MacAskill Family; Please accept our sincere sympathy on George,s passing. Our thoughts are with you all as you deal with your loss. God Bless
From: Roddie and Judy Munroe
To all the MacAskill Families;
Dearest relatives, extending my deepest and heartfelt sympathy to each one during this very sadden time and until I can see you in person may God hold you in the palm of his mighty hand.
Sincerely with love and prayers, Jackie (Allen) Carmichael
Keeping Margurite,Jennifer, Alan and family in our thoughts and prayers during this time of sorrow. Much love.
From: Lynda & Bob MacKenzie