Sydney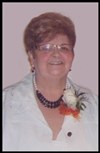 It is with great sadness and heavy hearts that we the family announce the passing of Marie Mombourquette, age 76, which occurred September 14, 2017 at the Cape Breton Regional Hospital, Sydney, surrounded by her loving family.
Born in Lower L'Ardoise, Marie was the daughter of the late Barnaby George and Margaret (Peters) Sampson.
Marie was a member of St. Theresa parish, Sydney. She worked as a caregiver and was the owner and operator of Mayfair Guest Home for many years. Marie enjoyed weekly dart games at the Elks Club, Sydney. Marie loved to tell jokes and enjoyed good conversation and spending time with family. She will be missed by all that knew her.
Marie is survived by her only daughter, Lisa Mombourquette and her son, Danny, both of Sydney. She will also be missed by her sisters, Sarah Pyke, Anne Marie Desveaux, Janet (Kevin) MacDonald all of Sydney, Doris (Ralph) Allen, South Bar, and Mary (Dave) Campbell, Victoria Mines; one brother, Nap (Shirley) Sampson, Arichat; one grandson, Daniel; two Godchildren, Michelle Rideout and Jim Aucoin; as well as many nieces and nephews.
Besides her parents, Marie was predeceased by her husband, Albert; sisters, Kay Pottie, Laura Pottie, Evelyn Bonaparte and Rose MacLean; one brother, Martin Sampson and two brothers in infancy.
Cremation has taken place. Visitation for the late Marie Mombourquette will be held on Sunday, Sept. 17, 2017 from 4-8 p.m. in the Pier Community Funeral Home, Whitney Pier.
Memorial Mass will be celebrated at 12 noon on Monday, September 18, 2017 in St. Theresa Church with Fr. Dennis Lamey officiating. Burial will take place in St. Theresa Cemetery, Sydney.
In lieu of flowers, donations in memory of Marie may be made to the Cape Breton Regional Hospital Cancer unit or Hospice Palliative Care of Cape Breton County.
Family gives a special thank you to Dr. Greg Myatt for the compassion and wonderful care he provided Marie. Also special thanks to the nurses and staff of 3B, 4B, and palliative care unit at the CB Regional Hospital for the care given to Marie during her time of need.
Funeral arrangements entrusted to Darcy Rideout in conjunction with the Pier Community Funeral Home.
Send an online condolence.





Online Condolences

Our sincere sympathizes from the Sampson families in L'Ardoise and Halifax.
From: Ambrose Sampson
Mary, Doris & families, We are sending our deepest condolences to the family in your time of sorrow on the loss of your sister.
From: Mel & Bunchie
I wish to offer my sincere sympathies to Marie's fa mily..we had many good times and lots of laughs and songs..fly high with the angels…
From: Linda Wade
Our deepest sympathy Mary,Doris and families on the loss of your sister Cecilia.
From: Alex&Deanna Mac Isaac