Whitney Pier



We, the family of James 'Dick' MacLean, regret to inform you he lost his battle with Alzheimer's at the QEII in Halifax on July 27, 2017 at 73 years old.
Born on August 15, 1943 in Barra Head, Jim was the son of the late James Dougal MacLean and Annie (MacDougall) MacLean/Royal.
Left to mourn are his loving wife of 52 years, Mae (nee Morrison); daughters, Cathy Law (Bill), Etobicoke, ON and Shelley Reid, Lower Sackville; son-in-law, Russell Reid, Lower Sackville; his nephew, who was like a son to him, Darrell MacLean (Marion MacKinnon), Oakfield; grandchildren, Alison Law, Brandon Reid (Molly Bilsborrow), Madison Law, and great-grandson, William Jason James Reid; sister, Margie MacLean, Sydney; brothers, Hector (Marlene), Dartmouth, Joe (Nora), Sydney and Bernie, Sydney; brother-in-law, Bill Morrison, Sydney; sister-in-laws, Wanda (Astle) Gallant, St. John, NB, and Lillian (Holmes) MacLean Mueller, Sydney.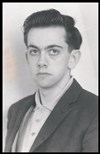 Jim is also survived by his nieces and nephews, Yvonne Poulain, Tammy Smith, Sheri Stevens, Brian MacLean, Valerie Hollohan, Joanne Cann, Lori Morrison, Jason MacLean, Amanda MacLean, Eddie Morrison and Treena Morrison, along with many grandnieces and grandnephews. He leaves behind and will be terribly missed by his many cousins, neighbours, and friends; especially his close friends, Robbie MacNeil and Lindsay LeJeune.
Besides his parents, Jim was predeceased by his stepfather, John (Jack) Royal; mother-in-law, Catherine Morrison; brother-in-law, Bob Gallant; his paternal and maternal grandparents, along with numerous uncles, aunts and cousins.
Jim spent his working career in the food service industry working at many companies in Sydney. In his younger years, one of his favourite sports was shuffleboard where he participated in tournaments at the French Club in Sydney, and won a few trophies along the way. A little later in his life he devoted much of spare time to the Sydney Lion's Club and United Commercial Traveler's (UCT) 883 Sydney, NS. He was a champion fundraiser for both the Lion's Club and UCT and you could always see him at various outlets selling tickets and bringing in the money. James was also on the board for Society of Deaf and Hard of Hearing Nova Scotians.
Dad liked to have a good time and was always up for a good party. Put on the Celtic tunes and his hands and feet would be clapping and stomping. He and Mom liked travel and would often spend time 'mini vacationing' in Whale Cove. Over the years they had taken many trips to the Ontario and mainland Nova Scotia to visit and spend time with their grandchildren.
Visitation for the late James 'Dick' MacLean will be held on Thursday, August 3, 2017 from 2-4 and 7-9 p.m. at the Pier Community Funeral Home, 1092 Victoria Rd. (entrance on Church Street).
Funeral Mass will be celebrated on Friday, August 4, 2017 at 10 a.m. in Holy Redeemer Church, Whitney Pier, with Fr. Paul Murphy officiating. Following the Mass, a reception will be held at the Pier Community Funeral Home. Interment will take place in St. Barra's Parish Cemetery, Christmas Island.
Family flowers only. In lieu of flowers, donations in kind can be made in Jim's memory to the Whitney Pier Youth Club, Alzheimer's Society of Nova Scotia, Holy Redeemer Building Fund, Sydney Lion's Club, or the UCT 883 Sydney, NS.
The family would like to extend a heartfelt thank-you to Dr. April Negus and Dr. Ken Rockwood and the nursing staff of 7.2 at the QEII for their help given to Jim during his time of need.
Funeral Arrangements are entrusted to the care and direction of Pier Community Funeral Home.
'fois ann an sìth Athair'
God Took Him To His Loving Home
God saw him getting tired, a cure was not to be.
He wrapped him in his loving arms and whispered 'Come with me.'
He suffered much in silence, his spirit did not bend.
He faced his pain with courage, until the very end.
He tried so hard to stay with us but his fight was not in vain,
God took him to His loving home and freed him from the pain.
Send an online condolence.





Online Condolences

Mae, please accept our sincere sympathy on Dick,s passing. Our thoughts are with you and your family as you deal with your loss. God Bless you All.
From: Roddie and Judy Munroe

To all the family so sorry for your loss. My thoughts and prayers are with you at this sad time.
From: Joan Yurczyszyn
I am at loss for words. Mr. Maclean has been such a good neighbour to my family, and the neighbourhood. If you needed a tool for the job chances were mr. Maclean would have it in his barn. He will be fondly remember and sadly missed by everyone who knew him
From: Marilyn Clarke and Family
My deepest sympathy to Cathy and family,may God be with you at this dificult time.
From: Kelly Moore

Cathy, Bill, Alison and Madi -I hope your happy memories help you through this difficult time. My thoughts and prayers are with you.
From: Debbie Hirstwood

Mae, Cathy and Shelley so sorry to hear about Dick's passing. He was a great neighbour and great person and will be missed
From: Caroline Clarke
Sorry for your loss. Please accept our heartfelt condolences to Cathy and her family. Thinking of you all in this difficult time.
From: Ranee and Dave
Condolences and hugs to Mae, Margie, and Shelley. Jim will be greatly missed but thought of fondly for the many years he devoted to our community.
From: Rosalind Wright

Sincere sympathy to you Mae and your family.I was so sorry to read that your husband had passed away, you will be in my prayers, God Bless all of you.
From: Bernardine Lewis

With Deep Sympathy, Shelley, I am so sorry for the loss of your Dad. May he Rest in Peace.
From: Diana Gruzas

I knew the Maclean family since I was 4. My family and I were fortunate to have them as friends and neighbours who truly and genuinely cared for everyone. I feel fortunate to have known them and to have grown up with my friend, Shelley. I am so sorry for your loss and for the world to lose such a great genuine soul.
From: Paula Clarke

I'm so very sorry for this loss my dear Shelley and family. I'm wrapping my arms around you. God Bless.xoxo
Love The Dentons

So very sorry to learn of Dick's passing! My thoughts and prayers are with you all at this difficult time…I just for out of the hospital today after having more surgery so I won't be able to attend the wake or funeral. GOd Bless you all!! XOXO
From: Patsy Foley

Dick was a neighbour of mine many years ago. We had a few good times together back then. Sorry for your loss Mae, Cathy & Shelley
From: Alex Poulain

May, Cathy & Shelly Our deepest heartfelt condolences to you and your family. Our thoughts and prayers are with you during the loss of your husband and father. I couldn't not ask for better neighbours for so many years we will miss Dick. Take care and may Dick R.I.P.
From: All the Families of Chester & Laura Borden & Children