North West Arm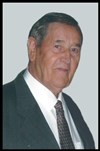 It is with a heavy heart that we announce the peaceful passing of Stanley Joseph Henrich, age 95, on July 12, 2017 in Sydney. Although he will be sorely missed by his family and friends, we take comfort knowing that he is united with his Lord.
Stan was born on April 20, 1922 to the late Philip and Mary Henrich in Whitney Pier where he spent much of his childhood. He later moved with his family to Point Edward, followed by building a permanent home in North West Arm.
A loving and devoted family man, Stan had an unyielding devotion to God, his wife and three daughters.
As a young man during WWII, Stan participated in the construction of the Edwardsville Naval Base, ammunition and artillery shelters, and the harbour gun houses.
Later Stan co-owned and operated a service station and garage on Keltic Drive with his brothers, Charlie and Ed. He was later employed by the Cape Breton District School Board as head mechanic until his retirement in 1987. Stan was an active member of Holy Rosary Parish. He devoted many hours organizing and participating in KOC and CWL functions. Being a 4th degree member of the KOC, Stan stayed active in the organization with his colleges well into his senior years.
A kind and giving man he would never deny anyone a request for help and assisted many a neighbor in need – often going above and beyond. Stan could turn his hand to anything and being a patient teacher, would share his skills and talents with many. Stan was happiest with a fishing pole in his hand. Many fond memories were made and shared with his friends, children and grandchildren.
Stan will be sadly missed by his wife of 63 years, Kay (Kathleen Riley) and his adoring daughters, Colleen (Forrest) McClellan, California, Kathy (Joshua) Cua, California, and Joanne Henrich, North West Arm. He is also survived by his beloved grandchildren, Shamus, Portland Or., Kyle (Caressa), Aeli (Jonathan), Jordan (Vanessa), Brandon, and his darling great-granddaughter, Kaydence, all of California; as well as numerous nieces and nephews.
Besides his parents, Stan was predeceased by brothers, Joseph, Charles, Edward, Matthew (infancy), and sisters, Helen Liszka, Minnie Ball, Genevieve Lewis and Charlotte (infancy).
With Stan's wishes, cremation has taken place. Visitation for the late Stanley Joseph Henrich will be held at the Pier Community Funeral Home, Whitney Pier, 1092 Victoria Rd. (entrance on Church Street) on Sunday, July 16, from 2-4 and 7-9 p.m.
Memorial Mass will be celebrated on Monday, July 17, 2017, at 11 a.m. at Holy Rosary Church, Westmount, with Fr. Douglas Murphy officiating. Burial will take place in the parish cemetery. Following the burial a reception will be held in the parish glebe house.
In lieu of flowers, donations in memory of Stan may be made to the Heart and Stroke Foundation or the Cancer Society.
The family would like to extend their heartfelt thanks to Dr. Kevin Orrell, Dr. Margaret Fraser and all who provided their excellent care on 3A-CBRH.
Funeral arrangements are entrusted to the care and direction of Pier Community Funeral Home.
Send an online condolence.





Online Condolences

I am so sorry for your loss.
From: Rita MacLeod

Dear Kay and family, So sorry to hear of Stan's passing. I am remembering all of you in my prayers.
From: Florence MacDonald

Sending our deepest sympathies to Kathy and her family on the loss of her father. My sister Karan Hunt is a friend of Kathy . My parents Gordon and Margaret Hillier are sending their sympathy as well as myself Cynthia. Our thoughts and prayers are with you all at this time.
From: Cynthia Hillier

It's been so many years since you and my mother became friends when my brother Dannie was born at the same time as Colleen.Our family looked forward to your visits.My deepest sympathy on Stan's passing.He certainly was a fine gentleman with a great sense of humor. My thoughts and prayers are with you all that God give you comfort and strength as you mourn the loss of one you loved so dearly.Rest in Peace, Stan.
From: Peggy MacIntyre

Dear Kay and Family, So sorry to hear of Stan's passing. I am remembering all of you in my prayers.
From: Florence MacDonald ( Fredericton)

Kay & family, So sorry to read of Stan's passing. Please accept my condolences and know that you are in my thoughts and prayers. Susan (Casswell) Knowles
From: Susan Knowles

Dear Kay we are saddened to read of Stan's passing He was such a gentle man and will be missed Take comfort He is with the Lord sincerely Wayne and Gloria Musgrave Cole Harbour ( Balls Creek)
From: Wayne & Gloria Musgrave