Sydney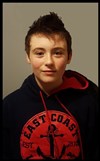 It is with great sadness that we announce the passing of our son, Justin Newell on Saturday, June 3, 2017, at home.
On February 16, 2004, Justin was born in Glace Bay, he was the son of Chris Melski and Shauna Newell.
Justin loved being active with his Royal Canadian Air Cadets squadron, Kiwanis 29 Air Cadets. He loved hanging out with his friends and playing video games. He took time to listen to his friends and try to help them with their issues, despite having issues of his own, for he just wanted to be accepted for who he was. Justin will be remembered by his family for being the best son, brother and friend anybody could have, for he will be truly missed.
Justin is survived by his loving parents, Chris Melski and Shauna Newell (Kent MacKay); siblings, Brenna and Landon Newell; step-siblings, Kailey and Cameron MacKay; maternal grandparents, James and Brenda Newell (Neil MacCandless); paternal grandparents, Brian and Pat Melski; aunts, Krysta Newell, Kimberly Newell and Stephanie Melski; uncles, Jamie Newell, Trevor Melski, and a cousin, Madison Melski.
Visitation for the late Justin Newell will be held at the Pier Community Funeral Home, 1092 Victoria Rd. (entrance on Church Street), on Thursday, June 8, 2017 from 6-9 p.m. Funeral service to celebrate the life of Justin will be held on Friday, June 9, 2017 at 6 p.m. in Pier Community Funeral Home, All Faith Chapel. Following the service, everyone is invited to a reception within the funeral home reception area.
Private family interment will take place at a later date.
Donations in memory of Justin may be made to Pride Cape Breton Society, Squadron 29 Air Cadets or charity of one's choice.
Funeral Arrangements are entrusted to the care and direction of Pier Community Funeral Home.
Send an online condolence.





Online Condolences

May u rest easy sweet angel. Thinking of u all, through this difficult time.. Love and prayers sent ur way. ((Hugs))
From: Gina Morrison
We are so very sorry. Our son was proud to say he was Justin's friend, classmate, and fellow cadet. He will be missed so much by everyone, especially Squad 29. Sincerest condolences to Justin's family from the MacKinnon family.
From: Tracey MacKinnon
Thoughts and prayers for you dear Angel,and for your Family. Gone too soon. RIP Justin.
From: Elizabeth MacEachern
Heartfelt condolences on the loss of your beloved son, Justin. I was so sad to read of his death.
From: Jana Dinsmore

i am so sorry for you loss i was a dear best friend of justin at a point in time when he was in grade 7 i asked him out and he said ''yes'' and i will never forget that for the rest of my life yes i understand this is a very tough time to go through isend depest condolences to his aunt uncle father mother and especially HIS LITTLE BROTHER AND SISTER may justin rest in peace RIP
From: jewel blanchard