A Celebration of Life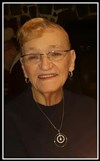 It is with great sadness and broken hearts that we announce the passing of a sweet, caring, beautiful, funny, loving woman who touched and loved everyone she met. Aurore became an angel on Thursday, Feb. 2, 2017 in Sydney, at the age of 83. She was an angel who placed everyone under her wings throughout her life.
Born on November 22, 1933 in Montreal, Quebec, Aurore was the daughter of the late Telesphore and Agnes (Begin) Godon.
Aurore loved to bowl, gamble, play bingo and cards with her family and friends. In her younger years you would find Aurore and the love of her life, Jean out at the lake in Gogama, fishing, camping and boating for days upon end. She is going to be missed dearly by all who loved her and knew her.
Aurore is survived by her loving granddaughter, Christine (Jamie) Dunn; great-granddaughter, Kianna; grandson, Emery LeBlanc and his children, Abigail, Hayden, Owen and close friend to the family, Mike Pinvidic. She is also survived by her loving brother, Claude Lafontaine, Dennis Godon and two loving nieces, Gabrielle (Alvin) Doiron and Paulette (Marcel) Constantin.
Besides her parents, Aurore was predeceased by her amazing husband, Jean Louis Gaouette, beautiful daughter, Irene (Darwin) Weidemann, son in-law, Paul LeBlanc, brothers, Gilles (Alice) Dawson, Yvon (Helen) Godon, Leo Paul (Matilde) Godon, and sister, Claire (Andree) LeBel. She will also be sadly missed by many stepsisters and stepbrothers, as well as many relatives and friends for she will be a beautiful memory within everyone's heart and will never be forgotten.
"We Love You Aurore and You will always be within Our Hearts.
It's time to spread your wings and fly like an Angel."
Send an online condolence.





Online Condolences

M