Whitney Pier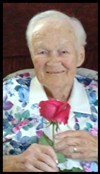 After a full and spirited life, Florence passed away peacefully surrounded by her family and friends at the Cape Breton Regional Hospital, Sydney, on Monday, Oct. 26, 2015, at the age of 88.
Born in Canso, N.S., Florence was the daughter of the late Gerald and Lillian (Morris) Fanning.
As a matriarch of our family, Florence was a woman of great faith and a dedicated wife of Clarence for 67 years. She was the mother of 11 children and a caring compassionate friend.
Among mom's many accomplishments: she was always a strong advocate for people with mental and physical disabilities, especially for her son, John. She loved roses and making crochet dish towels and chocolate balls and took great pleasure in sharing them with all who touched her in life. They are enjoyed by friends and family right across Canada.
Florence is dearly loved and will be forever missed by her husband, Clarence; daughters, Lillian (Eldin) Campbell, Alta., Anne (Roddy) Bereziuk, Halifax, Marie Chiasson, Victoria Mines, Clarisse (Bert) MacDonald, Catalone Gut, Rosalie (Billie) Usher, Gardiner Mines and Eileen (Dale), Alta.; sons, Joey (Valetta), Ont., Jimmy (Sharon), Whitney Pier, and Jerry (Kim), Ont.; 19 grandchildren, 26 great-grandchildren and five great-great-grandchildren; sisters, Valencia MacKinlay, Halifax, and Molly (Bruce), Greenlaw, Ont.; as well as many nieces and nephews.
Besides her parents, Florence was predeceased by her daughter, Gloria and baby Troy Hennick; son, John; son-in-law, Eddie Chiasson; sisters, Mamie, Eileen, Marjorie, Lillian and Genesta; brothers, Donnie, Charles, Tom and Robert 'Bob'. Her charm, humour and endlessly giving naturally will be greatly missed by all and especially her lifelong friend, Enid Gosse.
Visitation for the late Florence Bona will be held on Thursday, Oct. 29, 2014, at the Pier Community Funeral Home, Whitney Pier, 1092 Victoria Rd. (entrance on Church Street), from 5-8 p.m. Funeral service to celebrate the life of Florence will be held on Friday, Oct. 30, 2015, at 11 a.m. at the Pier Community Funeral Home, All Faith Chapel with Fr. Alex MacLellan officiating. Light refreshments will be served in the funeral home reception area following the service. Private family interment will take place in new Calvary Cemetery, Whitney Pier, at a later date.
In lieu of flowers, donations in memory of Florence may be made to Cape Breton Resi-care, Horizon Achievement Centre or charity of one's choice.
Special thanks to the care providers at CBRH palliative care (angels) and all of mom's doctors, nurses, home keepers and personal care workers especially, her family doctor, Dr. M. Smith for the past 50 years.
Funeral arrangements are entrusted to the care and direction of Pier Community Funeral Home.
For all the times you gently picked me up
When I fell down
For all the times you tied my shoes
And tucked me into bed
Or needed something
But put me first instead
For everything we shared
The dreams, the laughter
And the tears
I love you with a Special Love
That deepens every year
Thank you Mom
Send an online condolence.





Online Condolences

What a fitting tribute , beautiful message of her love and spirit as she walked this earth, my condolences to you all at this time , I will be unable to attend the service but want you all to know I thought dearely & respectfully of her , when ever I would visit the family home when I was younger, and in later years when I returned from Toronto, always a smile and tea, God Bless and keep you all your Dad is in my prayers and thoughts as are you all
From: Arlene Usher Mac Donald

Dear Anne and family, I am very sorry for the loss of your beautiful Mom. Her cheerful, bright smile and positive persona will always be remembered by all who knew and loved her. My deepest sympathy and condolences. Love Colleen Caines, Halifax

Dear Eileen & family Sorry for the loss of your mom, she was such a wonderful person. We always remember our visit to Cape Breton. Our thoughts and prayers are with you all. Love Mama and Papa T

Dear Anne & Family my sincere symphath of the passing of your wonderful mom who really does have a great kind heart. I will treasure my kitchen hand-towels that she had made, and now only allowed to be used on special occassions. I'm sure all the wonderful memories you have will always bring a smile to your heart. Our thoughts and prayers are with you always. Your friends always, Marlene & Bill
My deepest condolences to the family.Florence was a wonderful kind lady always thinking of others especially her John who she is now with.Everyone i ever met always spoke fondly of her.May she rest in peace.
From: Bertine

Our deepest sympathy and condolences to Clarence and family. Mrs. Bona was a beautiful lady and a gentle soul.
From: Jamie and Ann MacKinnon

Marie and family, I was saddened to see your beautiful mother has passed away. You are in my thoughts and prayers. Sincerely, Dianne MacAskill

I have many fond memories of Pook. Sincere condolences.
From: Joanne(Fanning) Whidden
Our deepest sympathies.
From: Teresa Penny and family
Eileen, and family. Deepest sympathy on the loss of your mom. We will remember a wonderful, caring lady with a beautiful soul, a kind word for everyone, and an irresistible laugh. We were blessed to have her in our lives. So sorry we cannot be there, our thoughts and prayers are with you. God Bless.
From: Paul & Cecilia Jamieson & Family, Harry and Lil Dollard & Family

Eileen, please know our thoughts and prayers are with you and your family at this time. "Whoever you hold in the heart of you. Is forever and always a part of you".
From: Angela and Leo Krszwda
Sorry to hear about Aunt Pook. She was a great lady. Sorry, I couldn't make it to the service.
From: Bill MacKenzie