Whitney Pier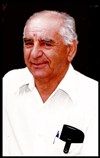 It is with broken hearts we announce the peaceful passing of our father, Louis Dominic Pratico, 92, on Friday, July 24, 2015, at Harbourstone Enhance Care Facility, Sydney.
Born on May 31, 1923 in Merritt, B.C., Louis was the son of the late Louis and Gina (Vanoni) Pratico.
After Louis birth, his family lived a short time in a coal mining town, Blakeburn, B.C., and later settled in Princeton, B.C. in 1928, where he was raised and educated.

As a young man Louis worked in Allenby, B.C. and later served in the the Second World War army from 1943-1946. His service with the military led him in England and northwest Europe before returning back to Allenby, B.C. In 1951, Louis moved to Sydney, N.S. and continued his working career with Sydney Steel plant, naval base, Tasco Sheet Metal and roofing, before retiring. Louis will be remembered by his family and friends for being generous and a hard worker.
Louis is survived by his sons, Richard, Johnny and a daughter, Jo-Ann, whom he resided with, along his grandson, David MacNeil, who helped take care of him on a day-to-day basis. He is also survived by eight grandchildren, David and Andy Pratico, Robert, April and David MacNeil, Margaret, Louie and Yvonne Pratico; six great-grandchildren, Eddy, Marjorie, Shea Lynn, Joey, Danielle and Lexie; as well as several nieces and nephews.
Besides his parents, Louis was predeceased by his son, Pat, brothers, Bruno, Art, Andy, and former wife, Margaret Hawco.
Visitation for the late Louis Dominic Pratico will be held on Thursday, July 30, 2015 at the Pier Community Funeral Home, Whitney Pier, 1092 Victoria Rd. (entrance on Church Street), from 2-4 and 7-9 p.m. Funeral service to celebrate the life of Louis will be held on Friday, July 31, 2015, at 11 a.m. in Pier Community Funeral Home, All Faith Chapel with Fr. Paul Murphy officiating. Light refreshments will be served in the reception area following the service. Private family interment will take place in the All Faith Chapel, Whitney Pier, at a later date.
Donations in memory of Louis may be made to Holy Redeemer Building Fund or charity of one's choice.
Much thanks to the staff at VON Adult Day Program and Harbourstone, Wentworth Court, for the support and care given to Louis during his time of need.
Funeral arrangements are entrusted to the care and direction of Pier Community Funeral Home.
Send an online condolence.





Online Condolences

Jo-Ann and family so sorry to hear about the passing of your dad thoughts and prayers are going your way.
From: Debbie Margettie-Snow
I am so sorry for your loss , your dad was a great person, I knew him most of my life, he is sleeping with the angels now. Our condolences.
From: David Hill and Faye Butts
Dear Jo-Ann; We were sorry to hear about your father's passing. Please accept our deepest sympathies.
From: Frank and Sandra Dunn
Jo-Ann and family, So sorry for your loss. Louis was a wonderful person and definitely will be sadly missed by all who knew and loved him. Rest in Peace…
From: Bev Pratico