Sydney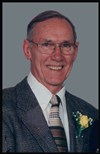 It is with heavy hearts that we announce the passing of our dear husband and father, Norman Hickman, 87, on Sunday, April 26, 2015, at Harbourstone Enhanced Care, Sydney, surrounded by his loving family.
Born in Pt Au Gaul, N.L., Norman was the son of the late Edward and Annie (Hillier) Hickman.
Norman worked for 36 years at Sydney Steel Corp. until his retirement in 1984.
Norman enjoyed a good game of tarbish and going home to Newfoundland with his family. He will be remembered by family and friends for his whistling, laughter, and generous nature.
Norman is survived by his loving wife of 67 years, Mary (Benteau) and his daughters, Shirley, Valerie (Joe), Charlotte (John) and Susan (Danny); grandchildren, Heather, Kym (Michael), Don (Kim), Erica (Brian), Cliffton (Cheryl), Ryan (Erin), Brandon (Lisa) and great-grandchildren, Sean, William, Samantha, Sidney, Kegan, Nathan, Brody, Brandon and Callum. He is also survived by his sister, Mary (Burke); brother, George; as well as several nieces and nephews.
Besides his parents, Norman was predeceased by his brothers, Rendall, Wallace, Herbert, Jabez, Curtis, James and sister, Hester.
Visitation for the late Norman Hickman will be held at the Pier Community Funeral Home, Whitney Pier, 1092 Victoria Rd. (entrance on Church Street) on Thursday, April 30 from 2-4 and 7-9 p.m. Funeral service to celebrate the life of Norman will be held on Friday, May 1, 2015 at 11 a.m. in the Pier Community Funeral Home, All Faith Chapel with Archdeacon Brenda Drake officiating. Following the service light refreshments will be held in the funeral home reception area. Interment will take place in Forest Haven Memorial Gardens, Sydney, at a later date.
The family would like to thank the caring staff at Harbourstone, Wentworth Court, for the compassionate care provided to Norman for the past five and a half years.
Donations in memory of Norman may be made to the Alzheimer Society of Nova Scotia or St. Alban's Memorial Fund.
Funeral arrangements are entrusted to the care and direction of Pier Community Funeral Home.
Send an online condolence.





Online Condolences

Condolences To The Family… God Bless…
From: Noella Walsh King and Wayne King
Sincere sympathy to Mary and family
From: Kevin. And Christina
Dear Hickman Family Thinking of you and yours… so sorry for your loss Farley Huntington
From: Fran Wolodko

Our thoughts and sympathy go out to your family at this time
From: Kathy & Basil Hall

Sending our deepest condolences for the loss of your dear father.Keeping your family in our thoughts and prayers during this difficult time
From: Sandra and David Muise

Our memories of Uncle Norm are ones that we will treasure. The year Jim spent in Sydney with the Hickman family is so special to him as were our visits when our own children were growing. Our thoughts & prayers are with you at this time.
Love from Jim, Marion & Family
I met Mr. Hickman about 8 years ago when Brandon took me to dinner at his grandparent's house. I have heard many stories about his humour, how full of life he was and how Ryan reminds us of him. I did not know that side of him, but I did get to know the incredible family that he raised and I have been so blessed to be welcomed as part of it. Brandon, Susan and your whole family, you have all treated me so kindly and accepted me as one of your own, I can only say how sorry I am for your loss and how I regret that I cannot be there while you celebrate his life and say goodbye to a man you all loved dearly. My thoughts and my love are with you.
From: Lisa (Earle) Gillis