18, Sydney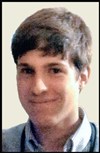 Russell 'Connor' McLellan passed away in Sydney, far too young at the age of 18.
Connor is survived by his parents, Lorway Glen McLellan and Barbara Ellen Henick (Paul Floyd); sisters, Jill and Chelsea; grandmother, Margaret Henick; many family and friends, and his dog Chloe.
Connor was predeceased by his grandparents, Walter Henick, Dr. James Russell McLellan and Virginia McLellan.
Connor was born on Feb. 27, 1996 in Sydney, N.S. He was in the IB program for three years before graduating with honours from Sydney Academy in 2014 and continued his education to Cape Breton University this year taking business.
Connor was a very accomplished artist, would often be found painting or walking around. He was a generous, witty and dedicated individual who loved drumming, drawing, painting, walking, culture, exploring, the Gampo Abbey, drinking his ice caps, and acting with the Bandshell Players. Connor was passionate for art and was recognized for his paintings, good sense of humour, and great style.
Visitation for the late Russell 'Connor' McLellan will be held at the Pier Community Funeral Home, Whitney Pier, 1092 Victoria Rd. (entrance on Church Street) on Tuesday, Nov. 18, from 2-4 and 7-9 p.m. Funeral service to celebrate the life of Connor will be held on Wednesday, Nov. 19, 2014, at 11 a.m. in Holy Redeemer Church with Fr. Paul Murphy officiating. Following the service, reception will take place in the Polish Village Hall, Whitney Pier. Private family interment will be in Forest Haven Memorial Gardens, Sydney, at a later date.
In lieu of flowers, donations in memory of Connor may be made to The Bandshell Players.
The family would like to thank everyone who helped in the search, Gil Boone, Heidi Stevens, the IWK, CBRP, and David and Tony Melski for their efforts, care, and dedication.
Funeral arrangements are entrusted to the care and direction of Pier Community Funeral Home.
Send an online condolence.





Online Condolences

Our Thoughts and Prayers are with the family members at this tragic time.
From: Trish Burke
Dear Barb, Marg, Chelsea ,Jill ,and Paul .. Both Ross and I are so sorry for your loss.. there are no words we could possibly say to take that deep ache away from your hearts but maybe it may help in some way to know people care about you all and want to celebrate such a beautiful life that was cut so short but meant so much to so many… Turn to each other for the strength to get through this difficult time. God Bless you, Take care of one another.
From: Heather and Ross Digou and Family
TO BARBARA & PAUL; SORRY FOR YOUR LOSS. YOU ARE IN OUR THOUGHTS & PRAYERS.
From: DAVE MACKEIGEN & DEBBIE MACIVOR

Glen, I cannot imagine what you must feel at this moment. We all mourn the loss of this wonderful young man. Know that you are very much in our thoughts.
From: Lorway and Jane

Barb, Sorry to hear of your great loss. God will give you the courage to get through this.
From: Helena Bonnar

Glen and Family, I am very sorry for your loss! Losing anyone is very tragic but a child is unconceivable! There are many who are thinking of you .
From: Nancy (Munroe) Horton

I am a friend of Connor's sister, Jill. Would like to send my deepest condolences and want the whole family to know that my prayers and the biggest part of my heart is sending out all my sincere feelings to you at this hard time. So sorry for your lost.
From: Mike Trowbridge

Barb and family, I'm truly heartbroken. There are no words to express how I feel. My deepest sympathies to you and your family. Know that Connor is with God and that time will ease the pain of your loss. Love and prayers are going your way. Stay strong, my friend. xo
From: Gwen (Apblett) Morrison
Dear Barb & Family, I would like to offer my deepest Sympathy during this time of your lost of connor. May the peace which comes from the memories and all the love you had shared with him may it comfort you now and all the days ahead. Althought no words can help ease the loss of your son, please know that your in my thoughts and prayers at this difficult time. God has called another…Angel home.
From: Jeannie Miller
Deepest Sympathy to Barbara, Marg and all the Henick Family. You are in our thoughts and prayers.
From: Mary, Blair & Mark Phillips
Glen, Chelsea, Jill and Barb. My heart was heavy with saddness to learn of Connor's passing. at this time I can say that I feel you pain, emptyness and disbelief in the loss of Connor. Please hold your loved ones close to you and draw on the prayers and love of all who surround you to help you get through. My Thoughts and prayers are with you all. May God bless and keep you all.
From: David Piercy

To the McLellan and Henick families. We am so sorry for your loss. Please know that our thoughts are with you at this difficult time.
From: David MacLennan