64, Sydney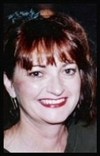 It is with heavy hearts, we share with relatives and friends the death of our sister, Joyce Russella MacAskill, who passed on Oct. 13, 2014, at the Cape Breton Regional Hospital, Sydney, after a lengthy illness.
Born in North Sydney, Joyce was the daughter of the late Russell and Bessie (MacLean) MacAskill.
Besides her parents, Joyce was predeceased by a sister in infancy and several aunts and uncles.
Joyce is survived by her sisters, Sandra MacAskill, Coxheath, and Lynn Ann Rigg, Cambridge, Ont.; nephew, Jesse Rigg (Alyssa); niece, Katy (Rigg) Paszkiewicz (Dan); aunt, Dorothy Montgomery; numerous cousins and special childhood friends, Mary Morrison Rankin, Ann (Nicholson) MacDonald, Joanne (MacAskill) Dunlop, Barbara (MacAskill) Egan, Barry MacDonald and Buddy MacDonald.
Memorial service to celebrate the life of Joyce Russella MacAskill will be held at Pier Community Funeral Home, 1092 Victoria Rd. (entrance on Church Street) on Saturday, Nov. 15, 2014, at 2 p.m. in the All FAith Chapel with Rev. Duncan Roach officiating. Light refreshments will be served in the reception area following the service. Private family burial will take place at a later date.
Donations in memory of Joyce may be made to the Cancer Patient Care Fund, Cape Breton Regional Hospital or charity of your choice.
Funeral arrangements are entrusted to the care and direction of Pier Community Funeral Home.

Online Condolences

My heartfelt sympathy goes to Joyce's family and friends, especially Sandra. I knew Joyce only a little while…I consider myself very lucky to have met her. She was beautiful, funny, smart and an interesting person to talk with. We shared some tears and many laughs together. I know she is at peace now…& to her family…she spoke highly of you all. Sandra, I know some days were tough, but I hope you know that she really did appreciate everything you did…even though it wasn't always expressed. My friend, rest easy & we will all miss you.
From: Tammy MacNeil
I shed a tear when I read about Joyce. We shared many good times and memories I will cherish. May she-RIP.
From: Paul Jenkins

Sandra and Lynn, I am so sorry to hear of Joyce's passing…may all your loving memories sustain you in the days ahead. My thoughts and prayers are with you all!
From: Paula DeMerchant
Dear Lynn and Family. It has been quite a number of years since we have had contact but I remember Joyce very well and all the good times there were. I had heard that Joyce was unwell but had no idea that she was so ill. I am saddened to hear of her passing and I extend my condolence to you and all her family and close friends.
From: Al Maxner