93, Sydney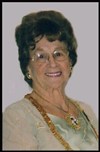 It is with saddened hearts that we announce the passing of Mary Elizabeth Bailey on Friday, Aug. 1, 2014, at The Cove Guest Home, Sydney, surrounded by her loving family.
Born in Main-A-Dieu, Mary was the daughter of the late Charles and Mary 'Mame' (O'Neil) Lahey. Mary was the last surviving member of her immediate family.
Family was everything to Mary. She was a member of Holy Redeemer Church for many years. She enjoyed playing bingo and spending much time with her grandchildren, for they were the love of her life. Mary will be remembered by family and friends being a very kind and giving woman, for her door was always open for all those in need.
Mary leaves behind her loving daughter, Joan Agnew (Lawrence Maclean); grandchildren, Robert (Shelley) Agnew, Sandy (Linda) Agnew, Dave Agnew and Mary Lynn (Barney) Gale; great-grandchildren, Josh, Dennis, John David, Jeffery, Cory, Amber, Kelsey, Michael, Toni, Kyle and Angie; great-great-grandchildren, Lance, Emily, Ethan and Bentley; sister-in-law, Florence Lahey; granddaughter-in-law, Cathy; as well as many many nieces and nephews.
Mary was predeceased by her husband, Robert Bailey; sisters, Rose, Kate, Martha and Helen and brothers, Irban, Jim, Gerald, George and Raymond.
Visitation for the late Mary Elizabeth Bailey will be held on Monday, Aug. 4, 2014 at the Pier Community Funeral Home, Whitney Pier, 1092 Victoria Rd. (entrance on Church Street), from 2-4 and 7-9 p.m. Funeral mass will be celebrated on Tuesday, Aug. 5, 2014, at 11 a.m. in Holy Redeemer Church with Fr. Paul Murphy officiating. Following the mass a reception will be held at the Pier Community Funeral Home. Interment will take place in Eastmount Cemetery, Whitney Pier.
Donations in memory of Mary may be made to The Cove Guest Home or charity of one's choice.
Funeral arrangements are entrusted to the care and direction of Pier Community Funeral Home.

Online Condolences
My deepest sympathy to the family. Mary was such a great friend of my mother, Annie Poirier. We grew up on Lingan Road near the Baileys and always shared great laughs whenever we got together. Our family will miss her.
From: Robert Poirier
from my family here in Sudbury On.& Bill's family in Hamilton on. our heartfelt and sincere condolences are been sent to you and your family Joan,the memories I have of your Mom and your Grandparents and uncles and our combined childhoods are just so precious. Know that our thoughts and prayers are with you at this time, God Bless….R.I.P Mary.
From: Peggy Walsh / Bill Oliver
My deepest sympathy to the family. Mary and my mom were dear friends & mom looked so forward to her visits with Mary.
From: Peggy MacNeil
Our thoughts and prayers are with all of you.
From: The Hall family
Sending our Deepest Sympathy at this time. Doddy & Bobby Keel (Hollohan), Truro ( Whitney Pier)
Joan, it is with sadness that we have learned of Mary's passing. She was one of our favourite people.
From: Elwin and Corinne MacKay, Oshawa