A Star was born….a Star has fallen
June 4, 1931 – June 3, 2014
Whitney Pier

It is with saddened hearts that we announce the passing of our beloved husband, father, brother and grandfather, Joseph Prince Cambridge, on Tuesday, June 3, 2014, at the Cape Breton Regional Hospital, surrounded by his loving family.
Joe was born in Sydney, Nova Scotia, on June 4, 1931.
Joe is survived by his beloved wife, Cynthia 'Cindy' Cambridge, and his children, Pamela (Toronto), Nadine (Toronto), George (Alberta), Melinda (Alberta) and Janneke (Toronto) and grandchildren, Kyle, Sheri, Peter Joseph 'P.J.', Frankie, Christopher, Tanisha, Ryan, Amanda and Hailey-Rose. He is also survived by his sister, Jean Cambridge Hills (Boston), his brother, George (Viola) (Brockton, Mass) and his godparents, Archbishop Vincent Waterman, Lady Isabel Waterman and Whitfield Best.
Joe was predeceased by his parents, Kenneth Daniels and Johanna Cambridge, grandparents, Johanna and Prince Cambridge, and Aunt Amy and Uncle Art Cambridge (Georgina).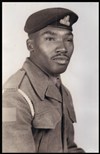 Joe was a Gunner of 1 R.C.H.A. in Shilo, Manitoba from May, 1954 to May, 1957 and he was a longtime employee of Chrysler Canada, retiring in 1988. Joe was not your typical senior; he remained technologically informed with his Iphone5S, Facebook account and Instagram. While Joe's mobility had its challenges, he kept his mind active with self-lead typing and guitar lessons, proclaiming himself to be a professional amateur guitarist. Joe became a master supervisor, world renowned critic, part-time inventor and singer songwriter and was passionate about his Steelers, the Montreal Canadiens, boxing, online shopping, photography…
"The Prince" left an impression on everyone he met and will be sadly missed by his family and many many friends.
Visitation for the late Joe Cambridge will be held on Friday, June 6, 2014 at the Pier Community Funeral Home, Whitney Pier, 1092 Victoria Rd. (entrance on Church Street), from 2-4 and 7-9 p.m. Funeral service to celebrate the life of Joe Cambridge will be held on Saturday, June 7, 2014, at 2 p.m. in Pier Community Funeral Home, All Faith Chapel with Archbishop Vincent Waterman officiating. Light refreshments will be served in the reception area following the service.
Donations in memory of Joe can be made to a charity of your choice.
Funeral arrangements are entrusted to the care and direction of Pier Community Funeral Home.
"When Christ shall come, with shout of acclamation, and take me home, what joy shall fill my heart"

Online Condolences
Remember Me Dear I'll see you one fine day
Another place, another way
Hold me close deep in your heart
And in that way we'll never part
Do the things we liked to do If not for me than just for you
Tell the kids I love them so
And show them all the love we've known
Smile and let your heart be free
Know you'll always be with me
Your love, it let me live again
And now anew you must begin I'll be there for the things you do
And always be a part of you
You'll see me with each song you sing
As the twinkle in your wedding ring
From: Roslyn Alleyne
Dear Cindy and Family: I wanted to offer my deepest sympathies to you on the loss of Joe. I know how important he was to you and I am sure this is a very difficult time. When this happens we are often at a loss for words that can comfort those most affected by the loss. Knowing that I can only say that you are in my prayers and thoughts during this trying ordeal. May God provide you with the strength and love you need at this time.
From: Sadie Holloway
Please accept our most heartfelt sympathies for your loss.Our thoughts are with you and your family during this difficult time.
From: BILLIE TOUSSAINT & FAMILY
Our deepest sympathies to you Cindy and your family.
From: Anna Alleyne Enus Crawford
With very heavy hearts, we send our deepest sympathy to Cindy and family and friends of "The Prince" He was and always will be one of the greatest people I have ever met and feel blessed to have had the chance to be a small part in his big world.
All our love to you all; Janet, Paul Christensen and Family
Our thoughts and prayers are with Cindy and the family at this time. Everyone who knew Joe loved his laughter and sense of humour. He was one of a kind and a great friend. Joe, Edsel and I had many great times together, including attending boxing matches and just hanging out together laughing and carrying on. Joe will never be forgotten by those who where fortunate and blessed to have him as a friend! Joe will be greatly missed be my wife (Karen) and I.
From: Demus and Karen Willis
Cindy and Family, so very sorry of your loss, may you be comforted by your fond memories and your love of a great husband, father and grandfather. My heartfelt sympathy to you all.
From: Sheldon Wadman
Please accept our sincere condolences on the loss of Joseph. He was a very nice person and well respected by our family. Our thoughts and prayers are with you and may he find peace with God…REST IN PEACE JOSEPH
From: Val & Mort Crawford Family
To Cindy and Family, I like to express our deepest and heartfelt condolences to you. Our thoughts and prayer are with you during the loss of you beloved "Joe". May he R.I.P. Mary, Chester and Laura Borden:
From: Mary Borden
Cindy & the Cambridge family,my deepest sympathy to all of you. Joe was a great guy with a very good sense of humour and don't let him get anything on you! RIP my friend, Jeanne & Maurice Street
Cindy and Family of Joe, please accept our thoughts and prayers on your loss. Cindy my heart goes out to you at a very difficult time. Lots of love and big hugs.
From: Deborah &Roger Reddick
Cindy and Family our thoughts and prayers are with you. When They Named Joe "PRINCE" What A Fitting Name For A Great Guy…May He Rest In Peace
From: JACKIE and JUDY
My deepest condolences to Cindy and familly.Joe will be greatly missed by one and all. I spent many great times with him when I came home to visit.
From: Raymond Ettienne
Dear Melinda – so sorry to hear about the loss of your dad. Our thoughts and hearts are with you and all your family ~ may your memories bring you comfort at this sad time and in the days ahead. Love Janice & Bill
Sorry to hear of Joe's passing. My thoughts and prayers are with you especially the lyrics of our familiar song 'rough side of the mountain' adapted to Joe. Joe's going up on rough side of the mountain. Today he holds on to God's powerful hand. Today he's going up on the right side of the mountain. And Joe has been doing the best that he can. May God grant his good @ faithful peace
Rev Bob Gibson
Joe Cambridge was one of the most decent and kind person that i've ever known. I first met Joe at Moffat where we worked together. At break and lunch time he used to gather large crowds of people around him, telling jokes,and laughing or teasing people. Everyone loved him. Well he is in God's care now but when he meets some of his old friends up there he will still be laughing and teasing people.
From: The Maxwell Family (Cyril, Betty, Kenny, & Gordie)
To Cindy and family …We were saddened to hear of Joe's passing. Joe was someone who I could talk to anytime I saw him and get his opinion on a variety of subjects. Joe will be surely be missed !
From: Gerald Moe (Paula)

Cindy, May you and your family find solace from the Father of tender mercies and the God of all comfort, who comforts us in all our tribulation. (2 Corinthians 1:3, 4) God promised that in the Paradise life will be a delight ?more than we can imagine? because violence, accidents, sickness, and death will be no more. (Revelation 21:3-5; Psalm 37:29; Isaiah 65:22) He will even resurrect many loved ones. Until then, trust that in due season, Jehovah God heals the brokenhearted ones, and he binds up their painful spots. (Psalm 147:3)
From; Claire
May deepest condolences to the family. Joe will be greatly missed.
From: Roland Callender
Sincere condolences to Cindy and Family.Our thoughts and prayers are with you at this difficult time.
From: Melvin & Evie Tull
From the family of the late Arthur Ruck we send our deepest condolences to the family and the entire Whitney Pier community. Joe was a life long friend of our dad "Mugger" who always spoke of Joe fondly.
From Darren Ruck and Family
Joe was a pillar in the community; I always enjoyed our visits and his stories of years gone by whenever I made my trips home. He will be truly missed. May he rest in peace. My love and prayers to Cindy and Family.
From: Phyllis J. Segura
I am so sad to hear of the loss of my old friend from way back in the day. I will miss his personality and the laughs we shared over the years. May his soul rest in peace and my thoughts and prayers are with the family.
From: Whoopie Best
I am so very sorry to hear of the loss of Joe. He was a great friend with whom I shared many great memories. May he rest in peace
From: Mary Kirton
To Cindy and family, I wish to express my sincere condolences on the loss of your loved one. You are in my thoughts prayers…
From: Karen Tull
There are no words that I can express to explain the way I feel over the loss of a great friend. We both shared many great and unforgettable moments over the past umpteen years. Although he is gone in body, he will always remain in my heart of memories. Rest in peace, my Brother and may God be with you……
From: Vern al (Cycle) Tull
Our deepest sympathy to you Cindy and the entire Cambridge family. Our buddy, Joe was a unique and special guy in so many ways–he will be missed by all of us.
From: Satch and Phyllis Gibson
Cindy my sincere and heartfelt condolences. You & your family are in my heart and my prayers.
From: Phyllis Marsh-Jarvis
Dear Cindy and family: We extend our deepest and most sincere condolences to you all. It is never easy to loose a loved one. May you find comfort in knowing that Joe is in a better place, where there is no more pain or suffering. He will truly be missed by those who had the pleasure of knowing him and sharing some of the joys of life. God bless you all at this difficult time and always.
From: Carl Crawford & Family
Joe was a good friend and a gentleman at Chrysler, Miss., ON.
From: Ron Davidson, Moorefield ON. (Retired)
To live in hearts we leave behind Is not to die. My deepest sympathy to Cindy and family.
From: Lionel Ruck Jr.
Our deepest sympathy to Cindy 'Pimpy' and all the family members. We will keep you in our prayers.
From: Bud & Midge Jewell
To Cindy & Family, Please accept our deepest and sincere condolences for the passing of Joe. He was a very good brother and friend to our family. He will be missed but we have lots of good memories. Rest in peace Joe Cambridge.
From: Delores, Alda & Doris
Cindy, your in my thoughts & Prayers that you will find comfort in the words of our Lord & Savior, 1Thessalonians16-18. Cindy&Family, He shall cover thee with his feathers and under his wings shalt thou trust:his truth shall be thy shield and buckler. Psalm 91:4 (Security) old Friend.
From: Patsy Lewis