76, Whitney Pier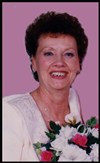 It is with heavy hearts that we, the family, announce the peaceful passing of our mother, grandmother, and wife, Peggy on Thursday, November 28, 2013, at home, surrounded by her loving family.
Born in Sydney on November 16, 1937, Peggy was the daughter of the late Cecil and Evelyn (Lively) French.
Peggy's unwavering Faith in God was very evident throughout her life. Her unselfish nature, kindness and compassion made her much loved and she will be sadly missed by all those whose lives she has touched and who had the privilege of knowing her. Everyone looked forward to receiving her generous hugs which were cherished by all. Her family was the center of her life. She lived life to the fullest every day and her heart and home was open to family and friends at all times. She will always be remembered by her beautiful smile. None knew her but to love her, none named her but to praise her.
Peggy will be lovingly remembered by her husband, Eric; her children, Sherry (Phillip) Nearing, Prince George, Wendy (Dougie), Sydney, Scott (Mona) Sydney, Tracey (Helen), Sydney, Brent, Dartmouth, and Trevor (Cathy), Sydney. She is survived by her siblings, Beverly (Elmer) Muise, Germaine (Ken) McLeod, Debbie (Jack) Lessie and David (Mary) French; sister-in-law, Annette; special friend, Dianne Manning; and her grandchildren, Jason, Mark, Laura Lee, Lindsay, Matthew, Brittany, Ryan, Aiden and Andrew; as well as the many nieces and nephews she truly adored. Peggy is also survived by Eric's children, Cecilia (Gene) Stanford, Toronto and Darren Brophy, Sydney and Eric's grandchildren, Kira, Katelin, Kristien, and Kassidy.
Besides her parents, Peggy was predeceased by her first husband, Harry Thomas Burt, brothers, Johnnie, Bobby, Terry, Eddie, and Ronnie.
Funeral Mass will be celebrated at Holy Redeemer Church on Monday, December 2, 2013 at 11 a.m. with Fr. Paul Murphy officiating. Light refreshments will be served following the mass at Pier Community Funeral Home, reception area. Interment will take place in Resurrection Cemetery, Sydney Forks.
In lieu of flowers, an "act of kindness" towards others would be a great tribute to Mom's Memory.
Funeral arrangements are entrusted to the care and direction of Pier Community Funeral Home.

Online Condolences

Our thoughts are with you Wendy, Dougie, Lindsay and Laura Lee.
From: Alicia and Myles
Dave, Mary and Extended Families…so sorry to hear of Peggy's passing
From: Frank Coffin
We are so sorry to hear of Peggy's passing. Our thoughts and prayers are with you all.
From: The Hennick Family in Ontario
So sorry for your loss our thoughts and prayers are with you at this time.
From: Mike and Debbie Snow
I had the pleasure of being part of Peggy's extended family and I am happy to have had her in our life. My condolences.
From: Michael Ling
Peggy held a special place in my heart; she was my second mother and I will miss her more than I can explain. Love you Peggy!!! xoxox
From: Joanne Ling
Sending my deepest sympathy at this time. A.F.F.A.
From: Doddy
The staff of Elegant Flooring Ltd. in Halifax, NS extend our deepest condolences to the family and friends of Peggy Brophy, mother of Brent Burt. Our thoughts and prayers are with you.
From: Tina Como
Hi Eric & family, My deepest condolences on the loss of Peggy. A sweet lady who always had kind words. I met her through Eric's work on the Joint Action Group. Take care and keep those memories close and look up at her soaring with the eagles.
From: Sean O'Toole
My thoughts go out to Peggy and her family, I only new Peggy for a short while but she was a remarkable women and truly an inspiration, she touched my heart with her beautiful smile and I will always be grateful to have met Peggy and her wonderful family…..Love your caregiver Kim Sweet
My sincerest heartfelt condolences on the passing of your beautiful mother. Her warm loving spirit will be remembered by all whose lives she touched.
From: Patti Northen
Sincere condolences on the great loss of your dear wife, Peggy. Eric our thoughts & prayers go out to you. She was a kind & beautiful lady.
From: Joan MacNeil & John
So very sorry to hear of Peggy's passing, she was a wonderful and kind person. She will be missed!
From: Wanda Collins