77, Sydney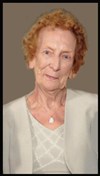 It is with great sadness that the family of June Eileen (Geddes) MacLean, RN, wife of the late Charles MacLean, announce her passing on June 12, 2013, just days short of her 78th birthday, at the An Cala Unit at the Cape Breton Regional Hospital, Sydney.
Born in Truro, N.S., June was the daughter of the late Roy B. and Madeline (Geldart) Geddes.
June spent her childhood in Truro and Summerside, eventually settling with her family in Cape Breton. She was a member of the 1957 graduating class of Glace Bay General Hospital School of Nursing. After marrying Charlie, they settled in Sydney where she worked at Point Edward Hospital, VON and the Cape Breton Hospital.

After Charlie passed away in 2002, the travel bug caught June and she went to Alberta and B.C. annually to visit her grandchildren (and children). She also went to the Dominican Republic, and most recently a cruise and a driving trip to the U.S. June also enjoyed the many concerts and shows that Cape Breton had to offer. She was an avid knitter, most that know her have a sweater, mittens or afghan made by Mom. June was affectionately known as "The Scrabble Queen", she was always ready for a game.
June is survived by daughters, Susan (Roger) McGregor, Anne (Doug) Young; son, John (Sandra) and daughter-in-law, Joanne MacLean. Grandma will be especially missed by Jennifer, Kyle, Autumn, Liam, Ocean and Ethan. She is also survived by her brother, Lee (Sue) Geddes; stepbrother, Bruce (Judy) Olsen; stepsister, Carolyn (Kerry) Waterfield; sister-in-law, Ruthanne Geddes; as well as numerous nieces and nephews. June will also be missed by special friends, Janet Weiland, Mildred Rudderham, Mary Jala and Carol MacNeil.
Besides her parents, June was predeceased by her husband, Charlie; son, David; brother, Robert Geddes; nephew, Ben Geddes and stepmother, Hazel Geddes.
Visitation for the late June Eileen MacLean will be held at the Pier Community Funeral Home, Whitney Pier, 1092 Victoria Rd. (entrance on Church Street) on Monday, June 17, from 7-9 p.m. Memorial service to celebrate the life of June Eileen MacLean will be held on Tuesday, June 18, 2013, at 2 p.m. in Pier Community Funeral Home, All Faith Chapel with Rev. Duncan Roach officiating. Following the service light refreshments will be served in the reception area. Interment will take place in Forest Haven Memorial Gardens, Sydney.
In lieu of flowers, donations in memory of June can be made to charity of choice.
The family would like to extend their heartfelt appreciation to the staff at the Cape Breton Regional Hospital for their care and compassion shown to June over the past eleven months. You brought a smile to Mom's face during some very difficult days and she loved you for it.
Funeral arrangements are entrusted to the care and direction of Pier Community Funeral Home..
"Her fighting spirit could no longer continue to fight."

Online Condolences
I miss you June very much and am so glad I had a chance to sit with you and tell you all about my life over the past year. You have always influenced me and I affectionately recall the Saturday when I was very young and you taught me to knit, and when I had trouble, you patiently reminded me how to do it. I love and will miss you with a heavy heart. My love to Anne, Susan, John and all their extended families. I miss you all and am with you in spirit during this difficult time. If I could get there, I would! You are always in my thoughts. <3
From: Barbara Geddes
Dear Anne & Doug, Susan & Roger, and Little Jenn, Our hearts go out to you all during this time of loss. Our families have been so intertwined throughout the years that we feel the loss for you as if it was our own. It's the little things, the small, everyday occurrences that you'll remember. The laughs, the stories, the smiles. And even though it seems like you can never recover from your loss, it is these very memories that will help push the pain away and bring back the smiles.
With Love,
Pam, Philip, Amy & Rebecca
Our thoughts are prayers are with you all as you say goodbye to an amazing person. I'm sure The rest of the family that have passed before her are getting ready for her big homecoming.
From: Rev. Gene & Cathy Fisher
TO THE FAMILY .SORRY TO HEAR OF YOUR MOM,S &GRANDMOTHERS PASSING .YOU ARE IN ARE THOUGHTS &PRAYERS.
From: DEBBIE MACIVOR & DAVE MACKEIGEN
Fondly remembered as a kind and caring nurse… "So helpful to her junior students." Sincere condolences to her family.
From: Joyce (Palmer) Hudson Class of '58 East Bay, NS