58, Whitney Pier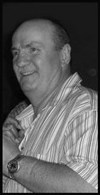 It is with sadness we announce the passing of Stephen 'Steve' Francis Dilney on May 28, 2013, at home.
Born in Sydney, Steve was the son of the late Steve and Agnes Dilney.
Steve lived a simple life. He loved camping, outdoor fires and most of all his man cave. Steve will be remembered by family and friends for his determination and being kind-hearted.
Steve leaves behind his wife, Shawn Dilney; sons, Edward and John; stepson, Gary (Kimberly); grandchildren, Riley, Hannah, Ty and Mila; several brothers and sisters; as well as good friends, John Gail and Bubby Rutherford.
Visitation and funeral service to celebrate the life of Stephen 'Steve' Francis Dilney will be held at Pier Community Funeral Home, 1092 Victoria Rd. (entrance on Church Street) on Saturday, June 1, 2013. A gathering of family and friends will take place from 12-2 p.m. with service to follow at 2:30 p.m. in the All Faith Chapel with Rev. Mike Butterfield officiating. Light refreshments will be served in the reception area following the service. A private family interment will take place at a later date.
Donations in memory of Steve may be made to charity of one's choice.
Funeral arrangements are entrusted to the care and direction of Pier Community Funeral Home.

Online Condolences
Dear Shawn, My deepest heartfelt condolences on the passing of your husband. May God Bless you during your time of sadness. Also sending condolences from Mom & Dad take care.
From: Mary Borden
Shawna,so sorry for your loss. Wish I could be there to give u a hug.My sympathies.
From: Jodi Koebel
Sending Our Deepest Sympathy At This Time. A.F.F.A. Doddy & Bobby
From: Doddy
My condolences Ed & John on the passing of your Dad. My thoughts & prayers are with you both.
From: Colleen Jewer
Very sorry to hear about Steve's passing. Our condolences to Steve's family
From: Dave LeBlanc