84, Sydney Mines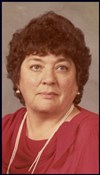 It is with heavy hearts that we announce the passing of our wonderful mother, Loretta MacKinnon on June 29, 2012. She passed away peacefully at the Cape Breton Regional Hospital surrounded by her family.
Born in Sydney Mines on May 1, 1928, Loretta was the daughter of the late Myrtle and Bond Rideout.
Loretta was a member of St. Andrews Presbyterian Church in Sydney Mines. She was also a member of the Pensioners Club of Sydney Mines for many years.
Loretta was a loving wife, mother, grandmother, sister, and friend. She dedicated her life to raising her family and worked very hard to assure that they all were afforded a good education. She felt that this was her greatest accomplishment.
One of Loretta's passions was writing short stories about her life experiences. She has read her stories on several occasions at various venues. Some of her stories have been published in books and articles over the years. Loretta wrote about growing up in the depression, war times, being a miner's wife and daughter, and "old-fashioned" stories from throughout her life.
Loretta was predeceased by John, her best friend and husband of nearly 60 years. They were the love of each other's lives and had seven children together. She was also predeceased by her sister, Margaret and three brothers, Clarence, Fred and Val.
Loretta leaves behind her seven children, Daniel, Sydney Mines, Alan, Whycocomagh, Judy, Moncton, Norma, Dartmouth, Joyce, Utah, Heather, Sydney, and Connie, Dartmouth. She also leaves behind 12 grandchildren; several great-grandchildren; brother, Don, Sydney Mines; sister, Florence, Sydney Mines, and sister, Bernice, Dartmouth.
Funeral service to celebrate the life of Loretta Jean MacKinnon will be held Wednesday, July 4, 2012, at 2 p.m. at St. Andrews Presbyterian Church, Sydney Mines, with Rev. Marion Barclay-MacKay officiating. A private family burial will take place at a later date.
Donations in memory of Loretta may be made to charity of ones choice.
Funeral arrangements are entrusted to the care and direction of Pier Community Funeral Home.
Put your 'ears' in Nana so you can hear us in heaven. We will miss you forever.

Online Condolences
Lieve dan, joel, gerrian, jude en overige familie, Wij condoleren jullie met het verlies van Loretta. Uit verhalen hebben we gehoord hoe bijzonder ze was en wat ze voor jullie betekende. In onze gedachten leven we met jullie mee. We wensen jullie een goede herdenkingsdienst toe en een goede uitvaart.
From: Anton en Annie
We wish you the strenghts to come to terms with the death of your mother, mother-in-law, grand- and grand-grandmother. She was a very loving woman. We will remember her the rest of our live.
From: Jan en Geertje Reiling