101, Sydney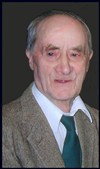 Our beloved father passed away on Christmas Day, Sunday, Dec. 25, 2011, at the Harbourstone Enhanced Care Facility, Sydney, at the age of 101 years old.
Born Dec. 16, 1910, at Sydney N.S., Jim was the son of the late Agnes and Charles Petterson.
He was the last surviving member of his immediate family.
Our dad, Jim was a member of Holy Redeemer Church. Dad was a strong Liberal. He lived most of his life on Lingan Road. His passion was farming, where from dawn till dusk he would be found tending his livestock and maintaining the farm. Summers were spent hay making and gardening. For pastime, he loved to hunt and fish, enjoyed watching wrestling, going to stock car races, and playing cards and darts. He loved to watch his Toronto Blue Jays and the Maple Leafs. For years Jim and his four sons cut wood for Bernie's Bakery. He was also the first school bus driver for the Lingan Road, South Bar, and East Broadway areas. Jim drove school bus for 27 years. When he retired, Jim spent most of his time tending his herd of beef cows with the help of his favourite dog, Topsy. Jim was an active member of the Lingan Road Community Association, where he spent many hours helping to build the hall and was always ready to lend a helping hand to the many activities that were involved in the hall. The hall was a favourite spot for Mom and Dad, where they enjoyed dances and darts and the company of neighbours and friends.
When dad was hospitalized he spent some time in the Glace Bay General Hospital where he received wonderful care from the nursing staff and care workers. Jim later went to Harbourstone Enhanced Care where he spent his remaining years. At Harbourstone he was known as Papa by everyone in the entire building and was the main attraction for entertainment which included playing the mouth organ, guitar, and he would never get tired of dancing with family, friends and staff. Harbourstone will be always be remembered by our family as a great home for Papa during his last years. We will always remember the staff and care workers for their compassion and love which they shared with Papa every day.
Jim was predeceased by his loving wife, Anna Doris Spagnolatti and his siblings, George, Charlie, Mary, Lillian, Muriel, Nicholas and Agnes.
Our Dad, Jim is survived by his children, Veronica (John) Thomson, James (Colleen), Robert, Linda (Donnie), Carl and Arnold; grandchildren, Susan, Jonathon, Amanda, Jillian, Jim, Lindy, Trace, Jordan and James; and many great-grandchildren.
Visitation for the late James Joseph 'Jim' Petterson Sr. will be held at Pier Community Funeral Home, 1092 Victoria Rd., Sydney, Monday, Jan. 2, 2012, from 2-4 and 7-9 p.m. Funeral service to celebrate the life of James Joseph 'Jim' Petterson Sr. will be held Tuesday, Jan. 3, at 11 a.m. in the Pier Community Funeral Home, All Faith Chapel, with Fr. Paul Murphy officiating. Light refreshments will be served in the reception area. Interment will take place in Forest Haven Memorial Gardens, Sydney.
Donations in memory of Jim may be made to the Heart and Stroke Foundation or Alzheimer Society.
Funeral arrangements are entrusted to the care and direction of Pier Community Funeral Home.
Online condolences may be forwarded to the family at www.pierfuneralhome.com.
We will miss our Papa until we meet him again.
He will always be with us every day in our hearts and memories.
Death is the golden key that opens the palace of eternity.

Online Condolences

Very sorry to hear of Jim's passing.He was a good friend & great neighbour. He will be fondly remembered. Sleep well my friend.
From: Raymond & Debi Grace
My heart goes out to you all. your dad was a wonderful man, while driving the bus he would love for us to sing, he'd say Arlene sing us a song, and I would sing all the way home I din't have many good role model's in my life but your dad was one for me, he encouraged my love for music, always had a smile on when we got on the bus, I know how hard he worked on the homestead farm. Last time I saw him was at the Lingan hall,a few years back,Don't worry about your dad he is in a wonderful place free from pain & happy to with his family, and someday you will be all be together again.he will remain fondly in my heart, god bless you all
From: Arlene Usher Mac Donald
So sorry to hear of your father's passing. It certainly is an end of an era. When I think of my grandfather, Sylvester Candelora and my uncles Jim and Louie it reminds me of the close bond your dad had with the entire Candelora Family. My thoughts and prayers are with your entire family.
From: Lucy (Candelora) Eaves
So sorry about the loss of Jim Will never forget all his antics and dancing at the hall when we played darts. I am sure he will be sadly missed.
From: Gloria (Lewis) Kehoe
A donation has been made to the Multiple Sclerosis Foundation by the Springhill Fire Dept.
From: Springhill Fire Dept.